Mitch McConnell got punk'd...by a blog. Well, more like his staff who wrote a letter on behalf of a constituent to Elizabeth King, the Assistant Secretary of Defense for Legislative Affairs. As the Pentagon's congressional liaison, McConnell's staff appropriately forwarded a concern regarding Guantanamo Bay prisoners receiving post-9/11 G.I. bill benefits.
On Nov. 14, 2012, the Senate Minority Leader wrote the following letter that was uncovered by Wired magazine's Spencer Ackerman.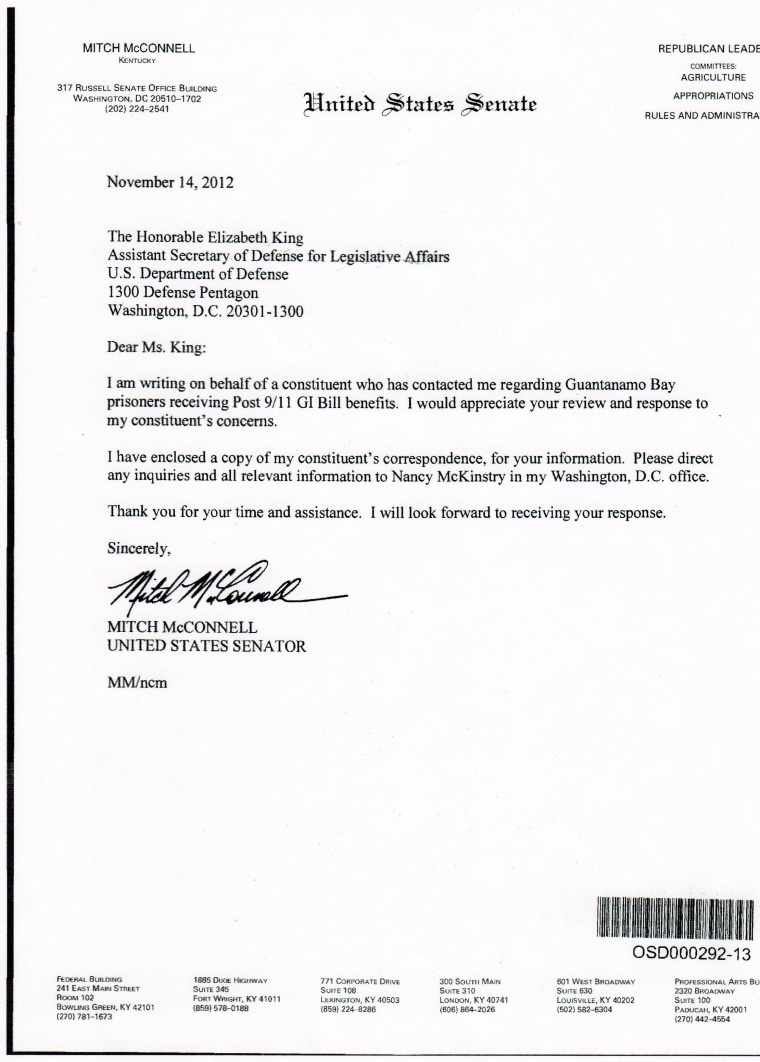 msnbc's Lawrence O'Donnell broke it down in this manner: "The letter is actually asking an Assistant Secretary of Defense if GiTMO Bay al Qaeda detainees are getting—not just veterans' benefits—but the enhanced veterans benefits of the post 9/11 G.I. bill. You got that? Mitch McConnell's staff wants to know if the Obama administration is giving veterans' benefits to the people the Obama administration believes would like to blow up America."
In the contituent's note, which was also uncovered by Wired magazine, the individual points out that there was no information about this online, not even on the Pentagon's website. Instead, the constituent the only place such a claim can be found is in an article on The Duffel Blog, a military news satire website.
O'Donnell discussed two scenarios that could have followed. "Either no one on the McConnell staff went to The Duffel Blog website and read the article--which would be grotesque congressional staff malpractice—or McConnell's staff did read the article on The Duffel Blog and believed it."
Which means McConnell's staff would have had to believe things like this from The Duffel Blog post:
DoD spokesman Wesley Manheim said that it was all a matter of fairness, "The DoD has been doing everything it can to prevent torture from being used against detainees at GiTMO. By allowing the detainees to use the Department of Veterans Affairs, we hope to completely crush their souls with bureaucracy, which to be noted, is completely different from torture. I mean hell, the V.A. does that to our veterans on a daily basis."
The Last Word traded emails with Senator McConnell's office on Thursday to try and confirm who wrote the letter and if the Republican leader knew if the letter existed, but the staff did not offer any answers to those questions.
The Last Word did receive a statement today from Army Lt. Col. Todd Breasseale, the Pentagon's spokesman on all matters Guantanamo. He told us the following:
"To be clear, communications between this Department and members of Congress are not open for discussion.  However, any suggestion that enemy detainees are in receipt of the G.I. Bill or any other benefit intended for those who have earned it, is absurd in the extreme.  Duffel Blog is a very cleverly put together, but obvious satire, website that has, apparently, fooled more than one person."
Lawrence O'Donnell continued, "Twenty years ago someone on Mitch McConnell's staff writing this letter would be fired. No senator would have continued to waste taxpayer dollars on the salary of anyone capable of being duped this way." O'Donnell then concluded, "As Mitch McConnell continues to push for Medicare cuts and cuts in education spending and cuts in all sorts of valuable investments in our society the government supports, the last place Mitch McConnell will look to save the taxpayers any money is his own stunningly incompetent staff."