Marvel Comic's newest superhero will pack a lot of punch, like the publisher's other good guys Captain America and Iron Man, but her alter ego is far from a super soldier or a millionaire playboy with a technologically-advanced armored suit.
In January, Marvel will introduce a reimagined version of the character, Ms. Marvel. The new Ms. Marvel is 16-year-old Kamala Khan, a Pakistani-American Muslim teenager from Jersey City, New Jersey. Marvel says Khan discovers she has amazing body-morphing powers and models herself after her idol, Captain Marvel, another superheroine from the Marvel Comics universe.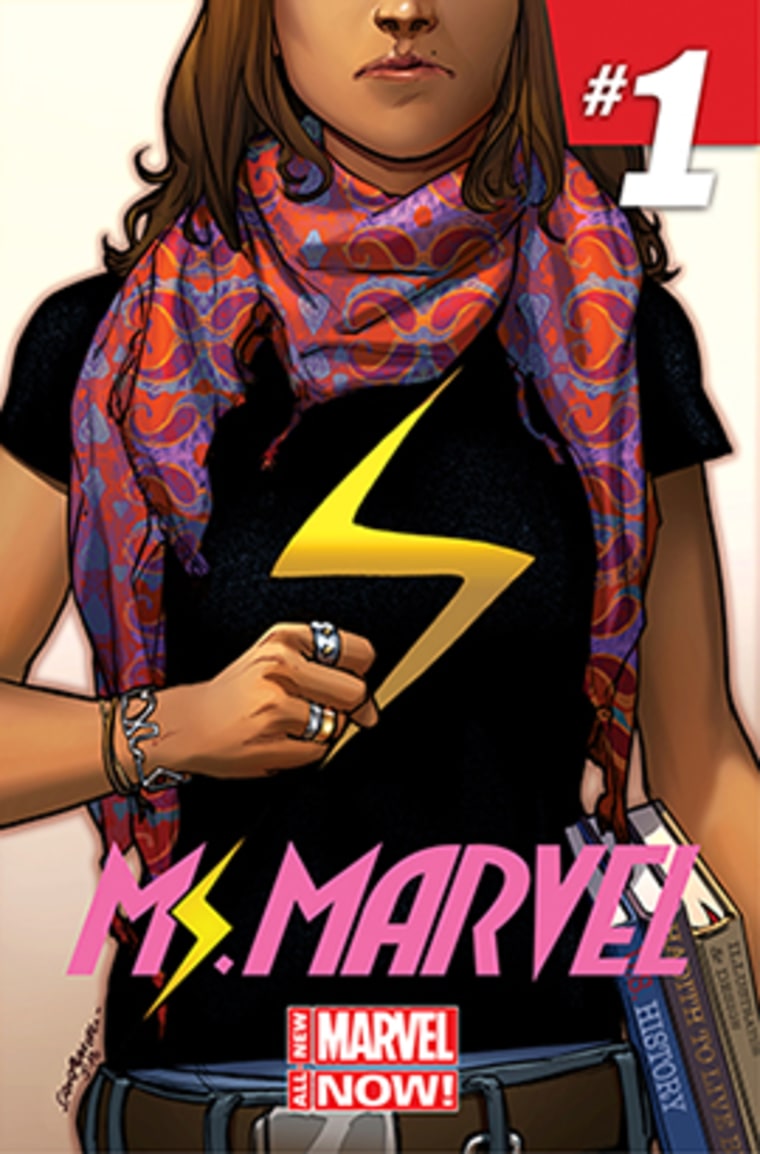 "Kamala is just a 16-year-old girl, exploring the many facets of her identity when she is suddenly bestowed with super-human powers that send her on the adventure of a lifetime," said Marvel Comics Editor-in-Chief Axel Alonso.
The team behind the story is being led by acclaimed novelist G. Willow Wilson. Wilson said she and her team hope to show a character "who struggles to reconcile being an American teenager with the conservative customs of her Pakistani Muslim family."
"Like a lot of children of immigrants, she feels torn between two worlds: the family she loves, but which drives her crazy, and her peers, who don't really understand what her home life is like," Wilson said. 
When asked specifically about the character's Muslim faith, Wilson said it will be "an essential part of her identity and something she struggles mightily with." Wilson also promised that the character will neither be a "poster child" for Islam, nor will she be used as a "token minority."
"She's going through a rebellious phase," the author says of Ms. Marvel. "She wants to go to parties and stay out past 9 PM and feel 'normal.' Yet at the same time, she feels the need to defend her family and their beliefs."
The team at Marvel says they're ready for all kinds of reaction to the new Ms. Marvel. The comic's editor Sana Amanat told The New York Times, "I do expect some negativity, not only from people who are anti-Muslim, but people who are Muslim and might want the character portrayed in a particular light."
But Amanat told Marvel.com the goal isn't to preach about religion. Instead, Amanat promised a story that focuses on the labels society puts on people and "how that forms your sense of self... It's a struggle we've all faced in one form or another, and isn't just particular to Kamala because she's Muslim. Her religion is just one aspect of the many ways she defines herself."
The character will debut in a special edition comic book in January with a monthly series to follow beginning in February. Artist Adrian Alphona has been brought on to create the world Ms. Marvel will inhabit. Amanat said Alphona will "introduce you to a world so authentic and visually stunning; you'll be constantly entertained and enchanted."
The idea for Ms. Marvel came about from Amanat's own life. The New York Times reports:
Her genesis began more mundanely, in a conversation between Sana Amanat and Steve Wacker, two editors at Marvel. "I was telling him some crazy anecdote about my childhood, growing up as a Muslim-American," Ms. Amanat said. "He found it hilarious."
In recent years, comic book companies have been adding more diverse characters to their lineups, trying to shake the stereotype that comic books are the province only of male superheroes and scantily clad superheroines. Marvel, the world's top comic publisher, reimagined Spider-man as a mixed race teen from Brooklyn in 2011 and included a marriage between two gay characters in the pages of Astonishing X-Men last year.
Wilson said with Ms. Marvel she wanted to write a series that "real people could relate to, particularly young women." She wants it to be "for all the geek girls out there, and everybody else who's ever looked at life from the fringe."