Support for same-sex marriage isn't confined to  Maine, Maryland, Minnesota, and Washington.  Polls and surveys show a clear growth in support for marriage equality. Pew Research Center conducted a poll two weeks before the election which found nearly half of the participants, 49%, in favor of allowing gays and lesbians to marry legally, while 40% opposed it (the lowest level of opposition that Pew has ever recorded). Most recently, in national election exit polling, 49% of voters said their state should legally recognize same-sex marriage while 46% said their state should not.
Michael Dimock, associate research director of the Pew Research Center, told the New York Times,
"The pace of the change in opinions has picked up over the last few years, and as the younger generation becomes a larger share of the electorate, the writing is on the wall."
This "steep recent trend" was demonstrated on Election Day when ballot measures legalizing same sex marriage were approved in Maine, Maryland and Washington state. In Minnesota, which already prohibits same-sex marriage, voters rejected a referendum to add that marriage ban to the state's constitution.
Last week, Minnesotans United for All Families, which campaigned against the proposed constitutional amendment to ban same-sex marriage in Minnesota, posted a video of campaign manager Richard Carlbom telling his campaign staff that the vote was too close to call. As he continued to thank everyone's hard work and told everyone to get some rest, Carlbom's communications director announced that the anti-gay marriage amendment had been defeated. "The AP just called it." Scroll ahead to 2:50 for the cheering and tears.
Recent data from the Pew study shows that there are geographic divides when it comes to support for marriage equality. In New England, 62% favor it and 57% favor in the mid-Atlantic. In the Midwest, that number dips down to 46%. And only 35% of people polled in the South supported same-sex marriage.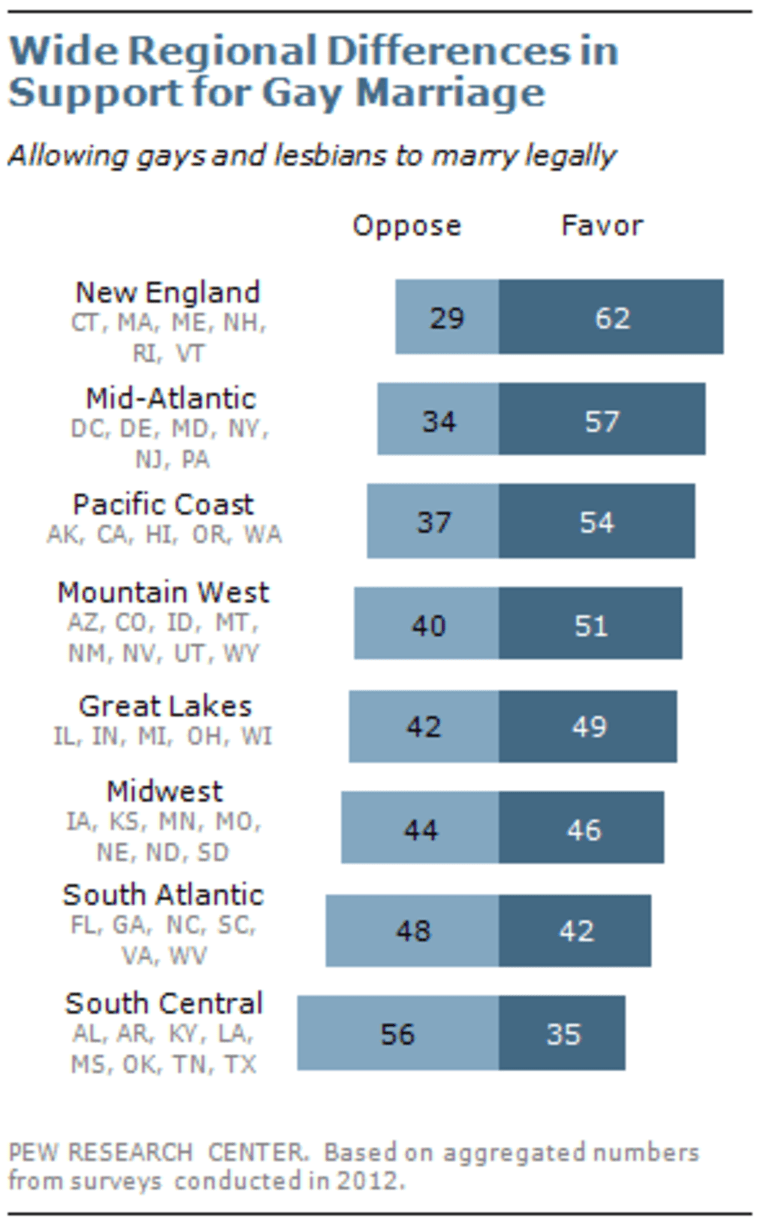 Pew also shows that there is more black support for marriage equality, at higher rates than among whites. In recent exit polls, black voters favored their state legally recognizing same-sex marriage by 51% to 41%, while among white voters, 47% were in favor and 49% were opposed. Among Hispanic voters, the margin was smaller with 59% supporting the freedom to marry and only 32% opposed.
With support for marriage equality on the rise, this demographic and geographic trend toward equality has some Republicans rethinking their party's position on the issue. The National Organization for Marriage (NOM) has claimed since last week that no such trend exists, but msnbc analyst Steve Schmidt, who advised the presidential campaigns of John McCain and George W. Bush, said that an alliance with the NOM would be  "a suicide pact" for the Republican party, and that the GOP should no longer fight the demographic trend.