The Supreme Court's landmark decision to overturn the Defense of Marriage Act stopped a deportation hearing for a binational same-sex married couple minutes after Wednesday's ruling. Sean and Steven Brooks faced a deportation proceeding scheduled at 10:30 a.m. on Wednesday, knowing that Steven Brooks, a gay Colombian man legally married to a U.S. citizen, could be sent back because the federally-sanctioned Defense of Marriage Act legally recognized only marriage between a man and a woman.
A New York City immigration judge, Barbara Nelson, immediately adjourned Brooks' deportation hearing after reading the Supreme Court ruling, specifically section 3 of DOMA which recognized only marriages between a man and a woman and granted federal benefits to such marriages. By striking down Section 3, the Supreme Court has allowed same-sex couples to receive more than 1,000 federal benefits and entitlements linked to marriage status.
"We knew we wouldn't have a decision until 10 a.m. and Steven's case was at 10:30 a.m. so we had to get the decision to the court," Lavi Soloway, the immigration lawyer representing the couple, told msnbc. "Literally, when it was posted to the SCOTUS website, we printed it, and had our intern from our law firm run five blocks up Broadway and hand the 77-page court ruling to the judge at the immigration court."
After being married at City Hall shortly after the state of New York legalized same-sex marriage, Sean Brooks first filed a green card petition in 2011 for his husband Steven, who came to the United States in the 1990s when his family moved from Colombia. But U.S. Citizenship and Immigration Services denied the green card petition because Sean's marriage to his Colombian partner did not federally exist.
The couple subsequently brought up their petition with immigration appeals, and the petition was left pending; that still provided Steven with a visa but left him vulnerable to being deported back to the country he had not visited in 12 years. Steven applied to have his deportation invalidated but the request was again denied.
DOMA was first signed into law in 1996 when 342 House members and 85 senators legalized the discriminatory act. Seventeen years later, Justice Anthony Kennedy joined the four liberal justices on the Supreme Court to strike it down. "DOMA is unconstitutional as a deprivation of the equal liberty of persons that is protected by the Fifth Amendment," wrote Justice Kennedy. "The federal statute is invalid."
In December of 2011, Sean wrote a blog post for The DOMA Project recounting the pain and frustration the couple had to face even after becoming legally married.
"I am no stranger to injustice," Brooks wrote. "It makes a mockery of the victory of marriage equality to know that the most powerful government in this country, the federal government in Washington, D.C., refuses to recognize our marriage because of the Defense of Marriage Act. They would just as soon deport Steven even though we have been together as a couple for [now ten] years and we are legally married."
"No one can justify the way DOMA has created this insanely cruel reality for couples like us," Brooks continued. "I will fight for my right as an American citizen to have it approved."
No longer will the couple have to carry that weight. Steven's application is still pending and must go through a process in order to become approved, but today's milestone has given his green card petition a real chance.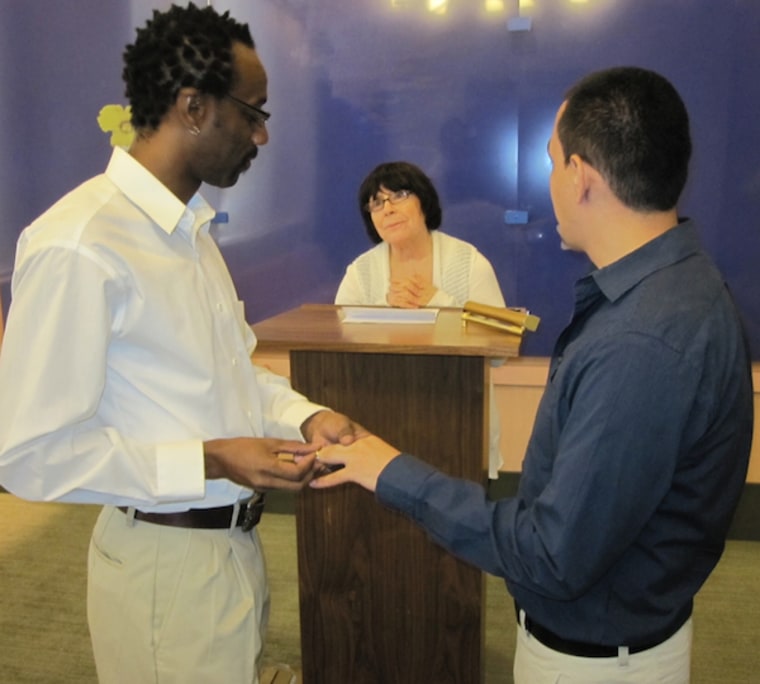 Their lawyer, Lavi Soloway, felt a "tremendous sense of relief" upon hearing the news. "These are two individuals who have been committed to each other for the last ten years, they take care of each other, they love each other, and they want to spend their lives together," Soloway said.
"This ruling affirms the dignity of their marriage and the respect that should be accorded to them. There should be no ruling by the federal government that interferes with that and the judge did the right thing by allowing them to stay together."
Sean and Steven Brooks are one of 28,500 binational same-sex couples who no longer have to fear that DOMA will separate them. Nearly 11,500 same-sex couples exist in the U.S. in which neither partner is a citizen. With comprehensive immigration reform on thin ice in the halls of Congress, approximately 267,000 LGBT-identified individuals among the adult undocumented immigrant population eagerly anticipate federal recognition.