Obama campaign manager Jim Messina spoke at Politico's Playbook Breakfast Tuesday about the role his campaign operation, Obama for America, will play in the president's second term. Messina made a number of sharp observations about his campaign, its success, and what's to come post-election. Here is, perhaps, the sharpest: "You can't run two presidential campaigns from the grass roots and say now we're going to run this from D.C."
The Obama team learned this the hard way. A frequent criticism of Obama's first term is that the White House communicated poorly about key pieces of legislation--the Recovery Act, for example--and that Obama opted to hunker down in closed-door negotiations when he should have taken his message to the people.
As the New York Times reported shortly after Obama's reelection, "The bigger question hanging over the [fiscal cliff] negotiations is whether Mr. Obama will go to his second inaugural in January with an achievement that starts to rewrite the unflattering leadership narrative that, fairly or not, came to define his first term for many people. That story line, stoked by Republicans but shared by some Democrats, holds that Mr. Obama is too passive and deferential to Congress, a legislative naïf who does little to nurture personal relationships with potential allies—in short, not a particularly strong leader."
The dig at leadership ability may be overblown, but the narrative exists. And these lessons of messaging have been learned by the Obama team in more ways than one. Shortly after the election, the White House signaled that it was going to take its fiscal cliff message on the road and do some old-fashioned barnstorming.
But Obama has an even bigger asset: Obama for America--the highly sophisticated machine of technology and grass roots manpower that propelled him to a decisive victory two weeks ago. And they're not letting it go to waste. Yesterday an email was sent out to supporters promoting Obama's stance on the fiscal cliff. Here's part of it: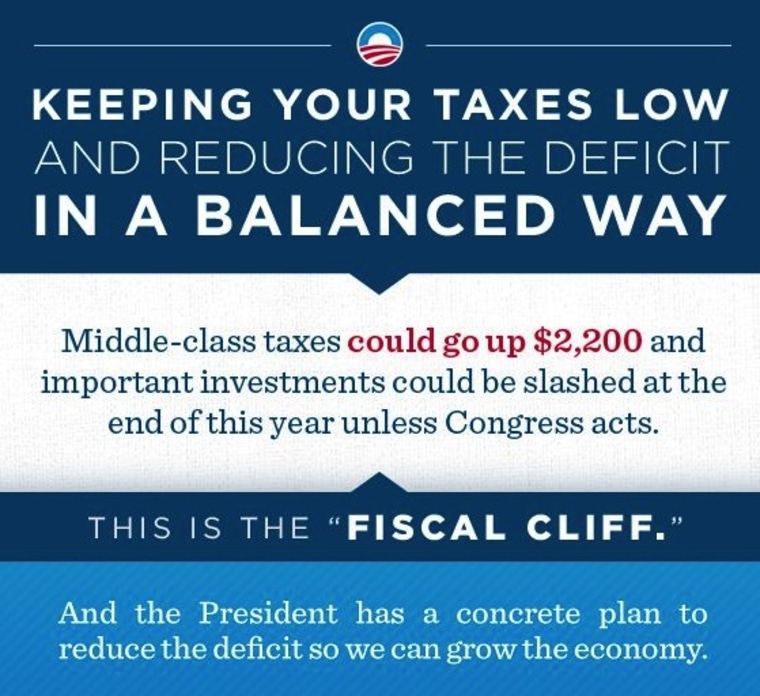 The email goes on to explain the plan, concluding with a message of compromise: "This is the President's plan, but he's not wedded to every detail. He is determined to work with Congress to find compromise and common ground. His guiding principle throughout this debate will be what's best for the middle class. He'll be fighting for you."
This is a glimpse at how Obama for America will engage its coalition in key fights throughout the second term, a way of governing via grass roots. Legally, the campaign operation has to dismantle now, and any funds it raised cannot be used for non-campaign purposes. But the apparatus still exists--so does the email list, and so do the volunteers.