The Pew Research Center released an interesting "number of the day" about how important the issue of abortion is to voters. It turns out that the level of importance you place on the issue varies greatly by gender according to Pew respondents. Women way more than men.  Pew reports:
Women are far more likely than men to rate several issues as very important to their vote in the presidential election this year, including abortion and health care.Among registered voters, more than half of women (54%) say the issue of abortion will be very important in their voting decision, compared with 36% of men -- a difference of 18 percentage points. Among all registered voters, 46% say the issue of abortion will be very important to their vote.While 81% of women voters say health care will be very important, fewer men (67%) view that issue as very important. Women also are more likely than men to view education (by 10 points) and jobs (eight points) as very important. There are no issues that significantly more men than women rate as very important.
So men don't think that abortion is an important issue as women but both think that the economy is important. Seems to make sense.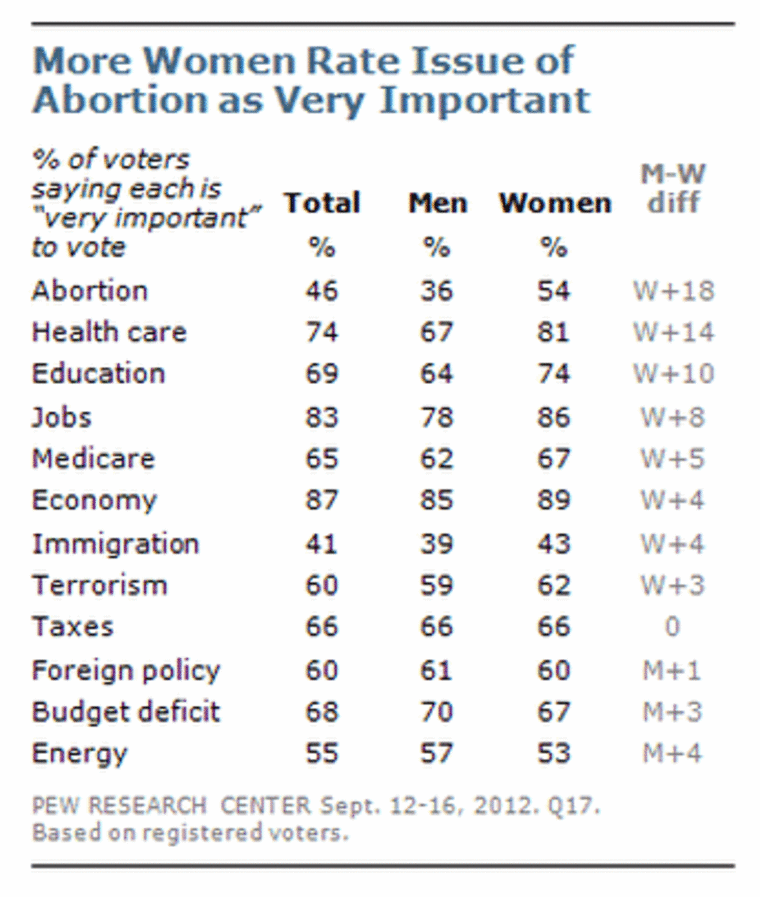 Both campaigns released new advertisements in the past 24 hours on the issue as they work to woo female voters. Mitt Romney's campaign released this ad Wednesday which features a woman who tells the camera she's a former supporter of President Obama and that  "Those ads saying Mitt Romney would ban all abortions and contraception seemed a bit extreme. So I looked into it. Turns out, Romney doesn't oppose contraception at all. In fact, he thinks abortion should be an option in cases of rape, incest or to save a mother's life." The Obama campaign already has an ad countering which shows Mitt Romney at a Republican debate saying he would "be delighted to sign that bill" that bans all abortions.
If it seems the Romney campaign is on the defense about the issue, this part of the Pew poll may explain why:
 In the new survey, women favor Obama over Romney by a wide margin (56% to 37%). Obama's advantage is about as wide among women who view abortion as very important (58% to 37%) as among those who view it as less important (53% to 36%).
But as the poll also shows, the number of voters who may still be undecided may not be swayed by the issue. Pew reports:
 Only about a third (34%) of swing voters say abortion is very important to their vote. Nearly half of all voters (46%) say abortion is very important.
President Obama trails Mitt Romney in many polls among men and the issue of abortion is not likely to move them towards the President based on a survey like this. Those male voters tell pollsters they care more about national security and economic issues. Some o those those men likely haven't thought about abortion at all, some of them are likely pro-choice and some are likely to be anti-abortion. Take for example Rep. Scott DesJarlais, Republican of Tennessee. He is a physician who opposes abortion rights. He also admitted to an affair with a patient and admitted that he encouraged her to get an abortion during a phone conversation. He now says that is not hypocrisy. Would the Congressman respond to a poll that abortion is not an issue of priority for him? What about any other man in his situation, what would their response be? Not important? Below gun rights, national security or the economy?
The polls may show men say abortion doesn't matter as much to them. But what we can learn from Rep. DesJarlais is that sometimes it doesn't matter until it does, and that perspective might be the hardest thing to poll.