Gov. Rick Perry appeared at a county courthouse Tuesday evening to be booked on felony charges after a grand jury indicted the Republican governor on abuse of power charges.
Reporting to the Travis County Courthouse in Austin, Texas, Perry, who is accused of two counts – coercion and threatening to veto funding to the state's public integrity unit – surrendered to authorities and had his mug shot and fingerprints taken. 
After the governor was indicted last Friday, he and his team of attorneys called the it an "outrageous assault on the rule of law" and a political attack. 
"This indictment is nothing short of an attack on the constitutional powers of the office of governor," Perry said before walking into the courthouse. "There are important, fundamental issues at stake, and I will not allow this attack on our system of government to stand."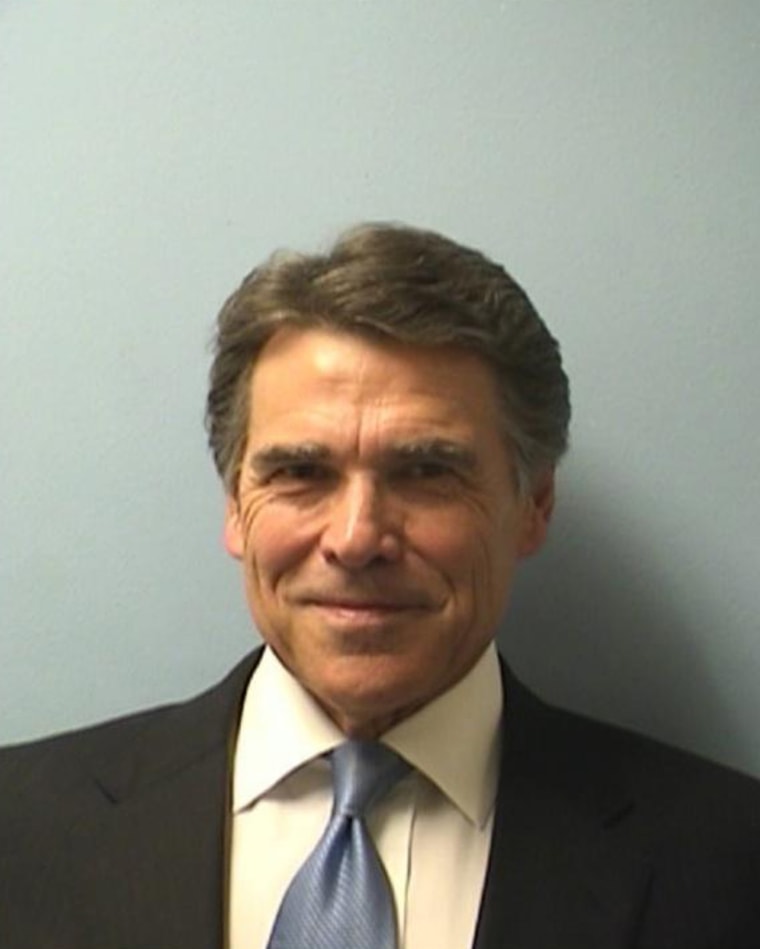 "I am going to fight this injustice with every fiber of my being, and we will prevail," he added.
Perry is accused of threatening to withhold funding for the Public Integrity Unit run by Travis County District Attorney Rosemary Lehmberg, a Democrat, unless she resigned. Perry said that he lost confidence in Lehmberg after her drunken driving conviction. 
Lehmberg refused to step down from her post, and Perry vetoed $7.5 million for the state unit, which investigates any wrongdoing by state officials. His veto incited an ethics complaint from a government watchdog group, and a special prosecutor launched an investigation, interviewing as many as 40 people, including staffers. 
Perry, who is expected to run for the presidency a second time in 2016, laughed off speculation that the indictment could hurt his presidential ambitions. Republicans defended the governor, questioning the indictment. The New York Times also published an editorial Monday, stating that Perry's veto does not warrant an indictment, but the editors also expressed broad criticism of the governor.
"Gov. Rick Perry of Texas is one of the least thoughtful and most damaging state leaders in America, having done great harm to immigrants, abortion clinics and people without health insurance during his 14 years in office. But bad political judgment is not necessarily a felony, and the indictment handed up against him on Friday — given the facts so far — appears to be the product of an overzealous prosecution," the paper wrote.
The op-ed added, "But his ill-advised veto still doesn't seem to rise to the level of a criminal act."
Perry is the first governor in the state to be indicted since 1917, and he faces a maximum sentence of 109 years in prison if convicted on both felony charges. 
Upon exiting the county courthouse, Perry accused the indictment of being "a political act that seeks to achieve at the court house what could not be achieved at the ballot box" and that the prosecution seeks "to erode the power of all Texas governors, Republican or Democrat."
"I remain focused on the priorities of the people of this state, doing the job I was elected to do and I will not be distracted by these baseless political charges," Perry said.