Updated 11:26pm ET
Voters in South Carolina's 1st District chose to redeem Mark Sanford Tuesday by electing him to the House of Representatives in the hotly contested race with Elizabeth Colbert Busch.
"I had deficiencies that are well chronicled as a candidate," Sanford said in his victory speech. "And at the end of the day I was carried across the threshold, if you will, by an incredible team of volunteers."
"I just want to acknowledge a God not just of second chances," Sanford went on, "but of third, fourth, fifth, sixth, seventh, eight chances, because that is the reality of our shared humanity...I also want to single out my fiancée, she also had a 10-hour trip [to get here]...Thank you as well for being here, love." And he acknowledged, "I am one imperfect man."
The race for South Carolina's 1st district commanded national attention in recent months thanks to two notable candidates. Mark Sanford is the former governor of South Carolina, who notoriously disappeared from the state during his second term to visit a mistress in Argentina--a trip that resulted in a four ethics violations totaling $74,000, the largest such fine in the state's history. Businesswoman Elizabeth Colbert Busch's high profile comes at least partly from her brother, late night political satirist Stephen Colbert.
"The people have spoken and I respect their decision...This is the beauty of our country," Colbert said in her concession speech. "It's been a tremendous honor to represent you. You are the most beautiful people in the most beautiful district in the most beautiful nation, and I cannot thank you enough."
In a heavily Republican district, Democrat Colbert Busch had an uphill climb. She ran on a moderate, localized policy agenda, focusing on South Carolinians in her district rather than making broad party-based declarations. She received help from her brother, Stephen Colbert--in addition to aid of his name recognition--who hosted several fundraising events for her, including two $500-$10,000 per person dinners in New York City and Washington D.C.
Colbert also endorsed her on his Comedy Central show The Colbert Report, on which he plays the part of a Republican pundit (read: blowhard): "Yes, yes, she's a Democrat," he said on April 3rd. "But she's a business woman, a job creator, who, when raising three children on $14,000 a year, went back to school, built a 20-year career in international trade, and is now leading Mark Sanford in two consecutive polls. Are we ready to do this, nation?!"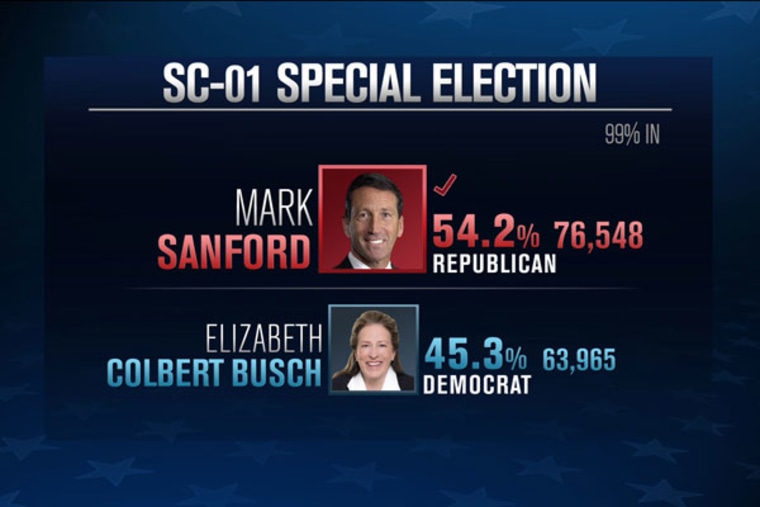 The Democratic candidate also got some help from her opponent. Having apparently overcome his past to defeat 15 other GOP contenders, Sanford's personal indiscretions resurfaced at a crucial time in the general race; in April, the Associated Press obtained court documents showing that Sanford's ex-wife had filed suit against him for alleged trespassing on her property in February. A few days later, Jenny Sanford confirmed the report. In response, Sanford released a full-page ad in the Charleston Post and Courier that started with, "It's been a rough week." In fact, with the Marathon bombing, it had been a rough week for the nation and the city of Boston—but Sanford seemed to see only events that centered around him.
The trespassing allegations cost Sanford the support of the Republican National Campaign Committee, which released a statement that they would "not be engaged in this special election" on the same day that the trespassing allegations came to light.
The bruised Republican candidate, who wanted to schedule more than one debate with Colbert Busch, debated a cardboard cutout of Nancy Pelosi on the sidewalk outside the Medical University of South Carolina in Charleston.
Colbert Busch was polling 9 points ahead of Sanford going into their debate on April 29th. The debate saw a few fireworks from Colbert Busch who accused Sanford of using taxpayer funds "to leave the country for a personal purpose." Sanford seemed to treat his debate with Colbert Busch as an extension of his debate with the cardboard Pelosi, mentioning the former Speaker of the House over a dozen times in 75 minutes (to the audible annoyance of the live audience).
Despite Colbert's Busch's polling lead, Sanford crawled back to pull ahead of her by one point, 47 to 46, on the day before the special election. Even with his blunders, Sanford has the advantage of being a Republican in a district that voted Romney over Obama by 18 points in last November's presidential election.