Three years after Congress and the president enacted Obamacare, the nation's new health care system is taking shape one state at a time. As of January 2014, every state will have a new consumer marketplace for health insurance, and states that want to expand coverage for the poor will get federal support to pay for it. But the Affordable Care Act gives the states a lot of maneuvering room. They can create their own insurance exchanges or leave the whole job to the feds. Likewise, the states can expand their Medicaid programs to cover everyone living below 138% of the poverty level, as the health care reform law envisions, or they can refuse federal funds and leave people uninsured. In the maps and charts that follow, we tally the states' positions on both issues and size up the political and public-health implications of their choices.
Twenty-six governors―24 of them Republican―will let the feds run their exchanges
The jury is in on health insurance exchanges, and it has split along party lines. Some 90% of the nation's Democratic governors (18 out of 20) plan to build their own insurance exchanges, either independently or in partnership with the federal government. Montana and Missouri are the only Democratic states leaving the job to the feds. By contrast, 80% of Republican governors (24 out of 30) are boycotting the effort. Their refusal was meant as a gesture of defiance, but it may actually strengthen the national system by enabling federal agencies to standardize the exchanges in 26 states.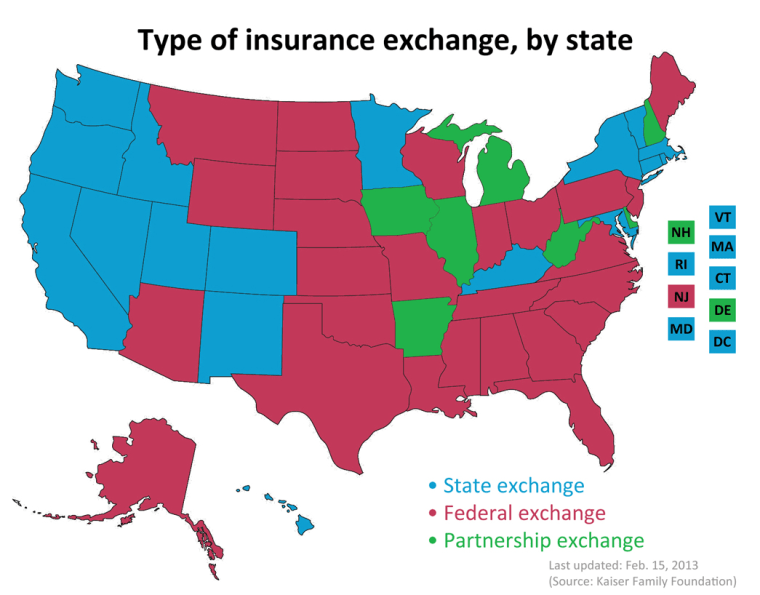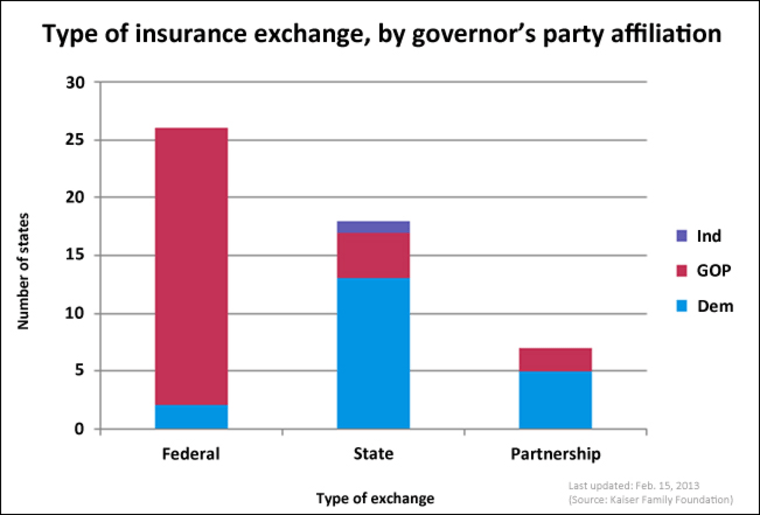 Twenty-seven states are set to expand Medicaid; 17 are balking and six are undecided
How poor do you have to be to qualify for Medicaid? It depends where you live. Under the current patchwork of policies, some states will cover a family of three that earns up to $39,000 a year (two times the federal poverty level). In other states, the same family would have to earn less than $9,800 (just half the poverty level) to qualify for Medicaid.
As originally signed into law, Obamacare would have expanded Medicaid to cover everyone living below 138% of the poverty level ($27,000 for that same family of three), regardless of the state. The expansion would have provided health coverage for 17 million uninsured Americans starting in 2014, but the Supreme Court foiled the plan last year, saying the feds couldn't compel states to expand their Medicaid programs. The states are now deciding, one at a time, whether to join the effort voluntarily or preserve the status quo. The federal government will cover the full cost of the expansion for the first three years, 90% thereafter.
As of late February, 17 governors have indicated that they won't expand eligibility; 27 have declared or hinted that they'll adopt the new standard for Medicaid eligibility. Most of them have Democratic governors, but eight Republicans (from Arizona, Florida, Michigan, New Jersey, North Dakota, New Mexico, Nevada and Ohio) have broken ranks to secure the federal assistance. New Jersey Gov. Chris Christie, a longtime opponent of Obamacare, became the latest on Feb. 26. "I am no fan of ACA [the Affordable Care Act]," he tweeted after his announcement. "[But] accepting these federal resources will provide health insurance to thousands of low-income New Jerseyans and actually save taxpayers money."
Unfortunately, many of the states in greatest need are passing up the chance to expand access. As these bar charts show, Louisiana, South Carolina and Texas are all boycotting the Medicaid expansion, even though 20% to 24% of their residents still lack any health coverage. Likewise, five of the country's eight sickest states (Alabama, Louisiana, Mississippi, Oklahoma, South Carolina) are boycotting the effort to expand access to care. On average, the states that won't expand Medicaid are  20% less healthy than those that that will. They all have Republican governors.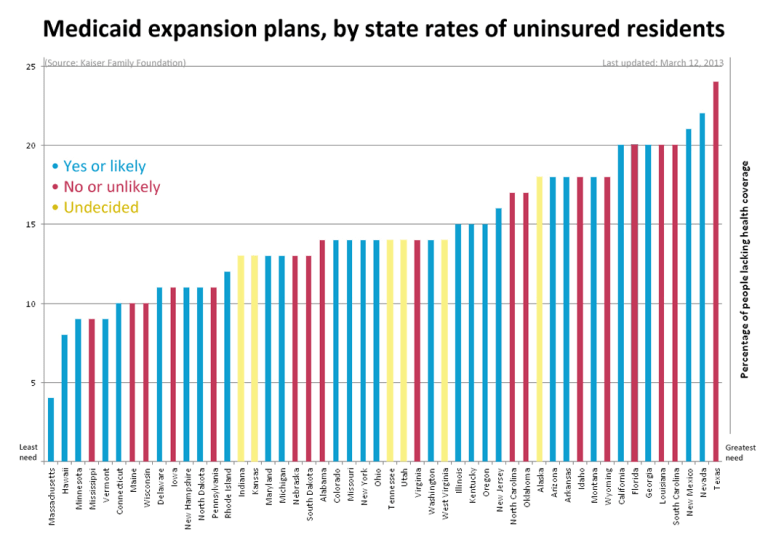 Graphics and Tumblr map by Traci G. Lee.
Editor's note: This article was updated on Feb 26, at 4:52 p.m., to reflect New Jersey's decision on Medicaid expansion.