A terrifying daunting new report from the nonpartisan Congressional Budget Office is raising a very, very large red flag over Capitol Hill. The report states that America's public debt could exceed the size of our entire economy in just one decade.
The biggest items on the nation's price tag can be found on page 10 of the report:
The health care programs are the main drivers of that growth; they are responsible for 80 percent of the total projected rise in spending on those mandatory programs over the next 25 years.Two factors underlie the projected increase in federal spending on the government's major mandatory health care programs and Social Security: the aging of the U.S. population, which increases the number of beneficiaries in those programs, and rapid growth in health care spending per beneficiary.
Certain politicians One could read this report as a condemnation of programs like Social Security, Medicare, Medicaid, and the President's new health care law (which of course seeks to lower health care costs). But it's also worth looking at the report's details on tax revenue.
The CBO used two different scenarios represented in the graph, below. The solid line shows what the CBO calls the Extended-Baseline Scenario (aka, the better option). As explained by the report's summary, in that scenario Congress would let the Bush-era tax rates expire next year and expand the Alternative Minimum Tax to millions of additional households. You can clearly see from the graph that under that scenario, the percentage of federal debt held by the public would stay relatively stagnant.
In the other scenario, the Alternative Fiscal Scenario (aka, the not better option) represented by the light blue dotted line, "the budget outlook," to quote the CBO, "is much bleaker." That calculation presupposes that the Bush-era tax rates will again be extended next year. It also presupposes that the Alternative Minimum Tax's reach will not be expanded and that tax law will follow historical trends. Under this scenario, federal debt held by the American public will equal our nation's Gross Domestic Product by 2021. Right... within a decade. By 2035 that number approaches 200%.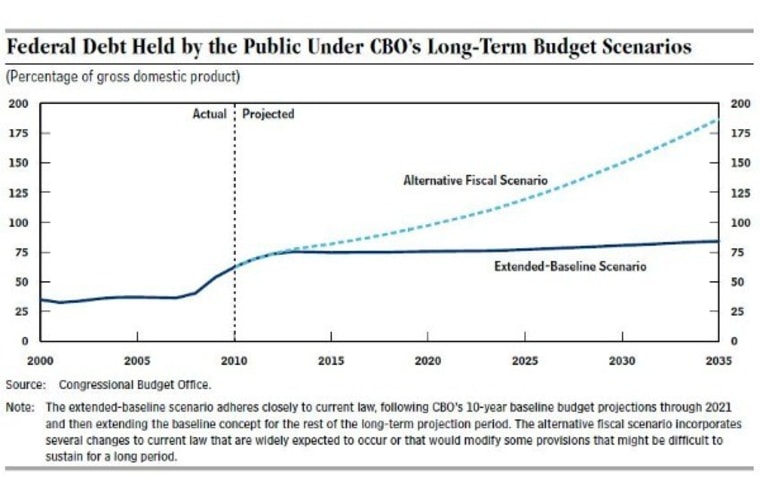 Should you want to read the entire CBO report for yourself, a PDF version is available here. You can find the summary here.