For the family of Alan Gross, a USAID subcontractor who has been held in a Cuban jail for the past five years, "enough is enough."
"My husband has paid a terrible price for serving his country and community," Judy Gross says in a statement released Wednesday to coincide with the fifth anniversary of her husband's arrest.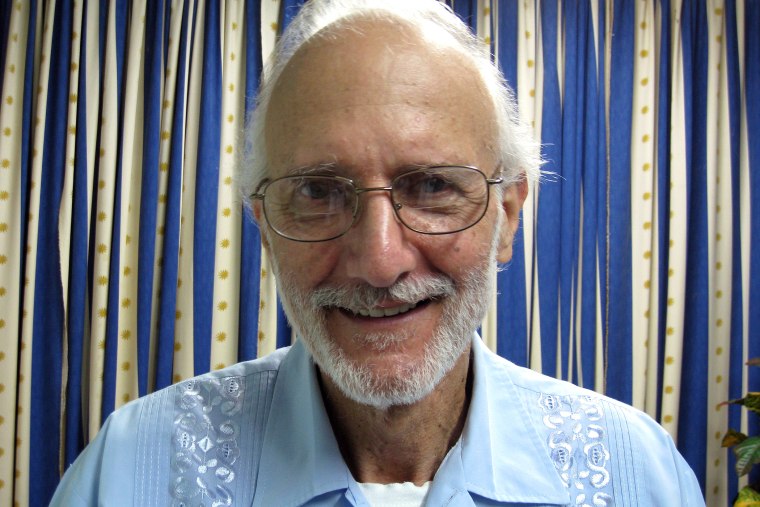 Gross, an American, was sentenced by Cuban authorities in 2011 to 15 years in jail on charges of crimes against the Cuban state. Gross was reportedly working to expand Internet access to Cuba's Jewish community, but has been called a spy by Cuban President Raul Castro. Cuban officials say Gross was actually working for U.S. intelligence agents -- a claim denied both by U.S. government officials and by Gross himself.
In April, his attorney announced Gross was beginning a hunger strike, according to NBC News. During his time in jail, Gross is said to have lost more than 100 pounds, with photos of him appearing to show the dramatic weight loss.
With his health seemingly in serious jeopardy -- Gross can barely walk due to chronic pain, has lost five teeth and cannot see out of his right eye, NBC News reports -- Gross' wife warns that he is "at the end" if the U.S. government does not intervene.
"Five years ago today Alan Gross was arrested for his efforts to help ordinary Cuban citizens have greater access to information through the Internet. The Administration remains focused on securing Alan's freedom from a Cuban prison, and returning him safely to his wife and children, where he belongs," President Obama said in a statement Wednesday morning.
"We remain deeply concerned for Alan's health, and reiterate our call for his release. The Cuban Government's release of Alan on humanitarian grounds would remove an impediment to more constructive relations between the United States and Cuba," the president said.
Related: Prisoners transferred out of Guantanamo Bay
"Alan is resolved that he will not endure another year imprisoned in Cuba," Judy Gross' statement reads. "After five years of literally wasting away, Alan is done. It is time for President Obama to bring Alan back to the United States now; otherwise it will be too late."
Federal officials, including the president's own spokesman, have repeatedly called for Gross to be released, to no avail. In a statement Tuesday night, State Department Deputy Spokeswoman Marie Harf said, "We reiterate our call on the Cuban government, echoing foreign leaders and even Cuba's allies, to release Alan Gross immediately."
Gross told his wife and daughter goodbye in July and has refused any visit from them since that time, according to NBC News. He has also refused to meet with the federal government's representative in Cuba, Ambassador Jeffrey DeLaurentis, the Chief of Mission at the U.S. Interests Section in Havana.
In September, Gross' attorney Scott Gilbert, told the Associated Press his client had become "withdrawn" and stated that a "life in prison is not a life worth living."