The immediate consensus that Mitt Romney won Wednesday's presidential debate has eroded significantly as fact-checkers have weighed in and supporters of President Barack Obama have fought back, according to NBCPolitics' computer-assisted analysis of more than 1.3 million post-debate comments on social media.
The analysis suggests that as debate over a news event continues unmediated over time, the impact of the conventional wisdom of journalists and partisan commentators can be mitigated.
Before the debate, Romney partisans — never shy about criticizing what many of them see as the news media's bias against Republicans — had predicted that Obama would be declared the "winner" regardless of how it unfolded:
---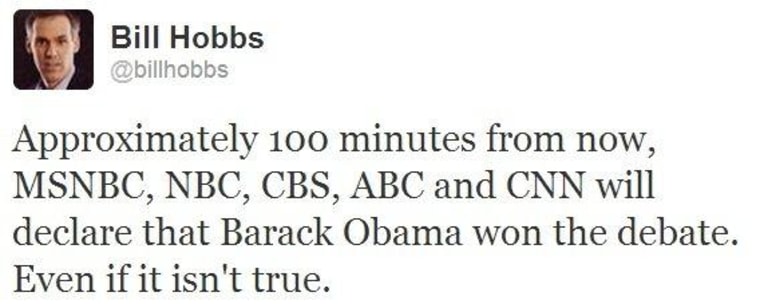 But as soon as the debate had finished Wednesday night, commentators and television analysts — including some generally considered sympathetic to Obama — agreed that the president had lost:

As the consensus spread through the news cycle, it was echoed on Twitter and Facebook on Thursday, according to NBCPolitics' analysis, which examined slightly more than 1.3 million postings beginning at 10:30 p.m. ET Wednesday, when the debate concluded, through 11 a.m. ET Friday.
NBCPolitics.com uses a tool called ForSight, a data platform developed by Crimson Hexagon Inc., which many research and business organizations have adopted to gauge public opinion in new media. It isn't the same as traditional surveys, which seek to reflect national opinion; instead, it's a broad, non-predictive snapshot of what's being said by Americans who follow politics and are active on Facebook, Twitter or both at a particular moment in time, and why they're saying it.
More social media analysis from NBCPolitics.com
Explainer: Can you scientifically quantify social media opinion?
Obama took a beating Thursday, reflecting the view that he had been passive and had passed up opportunities to attack Romney: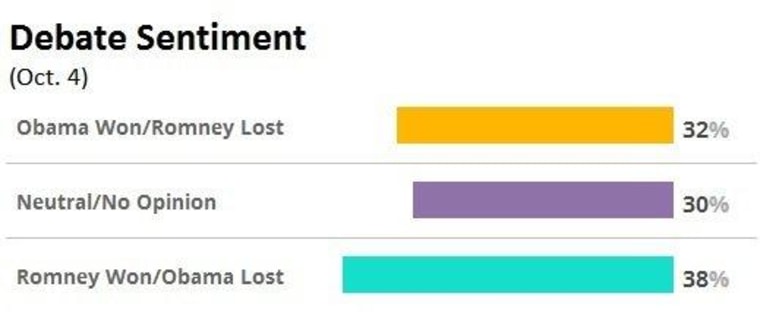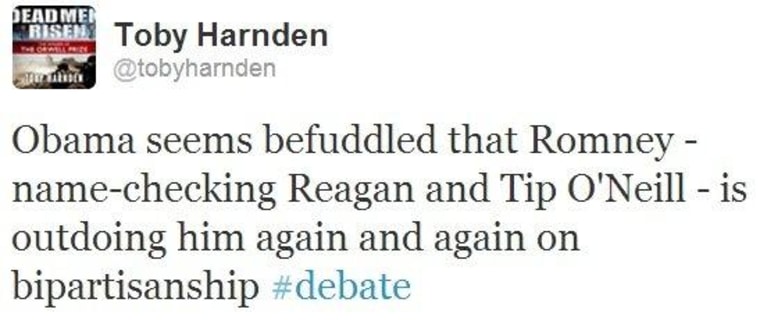 A visual representation of the discussion in the 90 minutes immediately after the debate, as pundits chewed it over on TV postgame shows, indicates the breadth of consensus. Notice that even when people talked about Obama, one of the primary subtopics was "Romney Won The Debate":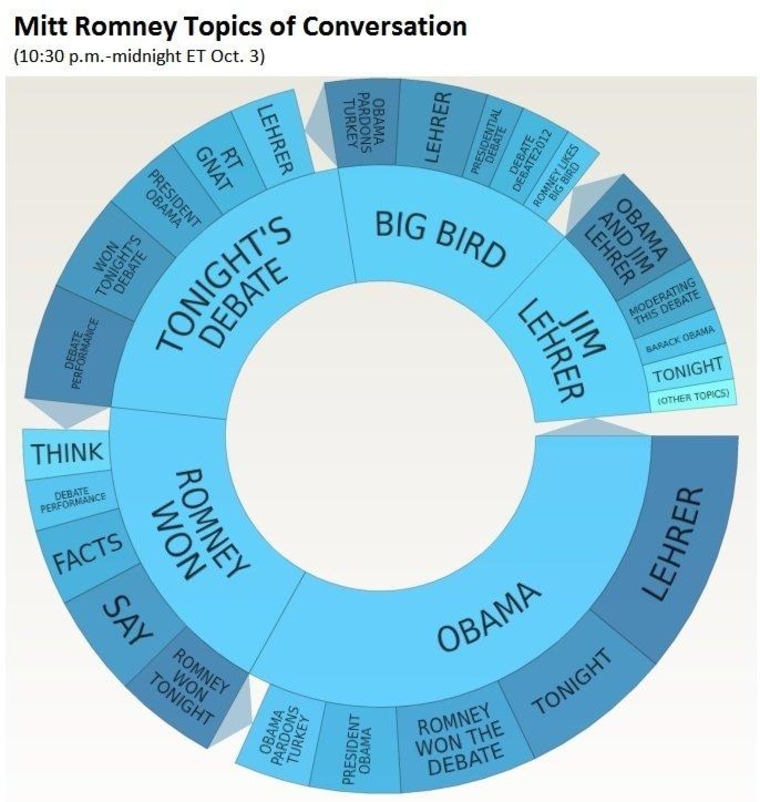 Now look again. Even as Romney was being hailed as the victor in the minutes immediately afterward, a small question was already being raised about "Facts."
By late Thursday afternoon, those questions had become prominent, as commenters cited analyses by partisan and nonpartisan fact-checkers: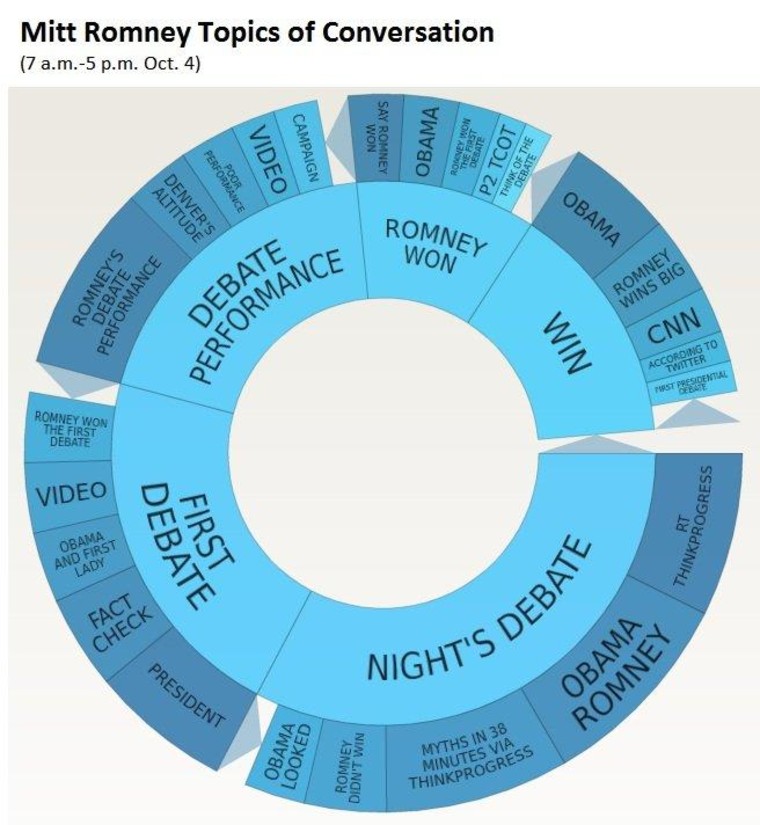 Particularly influential was a commentary Thursday morning by the liberal blog Think Progress:
Pundits from both sides of the aisle have lauded Mitt Romney's strong debate performance, praising his preparedness and ability to challenge President Obama's policies and accomplishments. But Romney only accomplished this goal by repeatedly misleading viewers. He spoke for 38 minutes of the 90 minute debate and told at least 27 myths.
Arguments like that planted the idea that Romney had "lied his way to victory," an idea that Obama supporters began spreading with enthusiasm:


By Friday morning, the counterargument that Obama had actually won on substance had taken root, with online sentiment now favoring the president:

A visual representation illustrates the shift: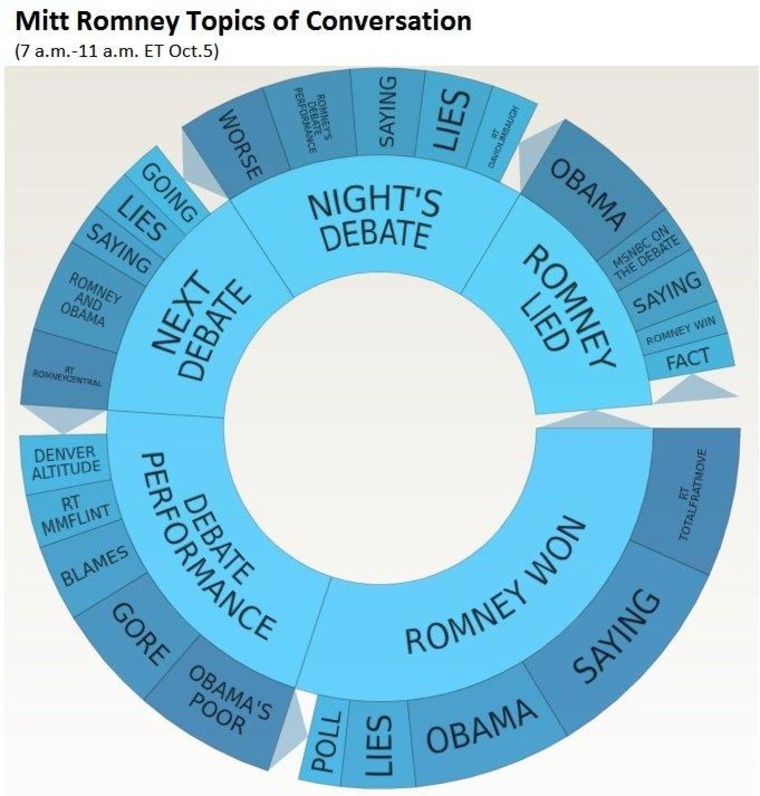 The analysis suggests that Twitter and Facebook can be powerful disseminators of opinion once commenters have time to digest the news and marshal their arguments, as was efficiently perceived in this comment: