DENVER – Policy largely trumped "zingers" in the first debate between President Barack Obama and Republican presidential nominee Mitt Romney as the two sparred on issues as varied as taxes and spending, entitlements, education and more.
Romney sought to cast himself as a capable and affable alternative to the sitting president and looked to establish himself as presidential in a major opportunity to reach voters in a side-by-side setting at the University of Denver. Hitting that mark was especially important for Republican presidential nominee, given the high expectations he had faced entering tonight's forum, having trailed Obama in most polls before this event.
Obama, for his part, cast his Republican opponent as elusive in specifying just how he would cut taxes without adding to the national debt, or what form his own health care reforms would take. 
But neither candidate seemed to achieve any breakout moment, and two additional debates throughout October could prove more pivotal to the election's outcome.
VOTE: Did the debate do anything to influence who you will support on Election Day?
Taxes and spending dominated the outset of the debate, as Obama and Romney battled largely over the details of Romney's tax proposals, which call for an across-the-board, 20 percent reduction in each marginal tax rate. The Republican argues the cost of these would be offset by reducing deductions.
"My number one principle is there will be no tax cut that adds to the deficit," Romney said.
Romney asserted his tax plan would spur job creation and help balance the budget, but the president insisted that these proposals simply do not add up.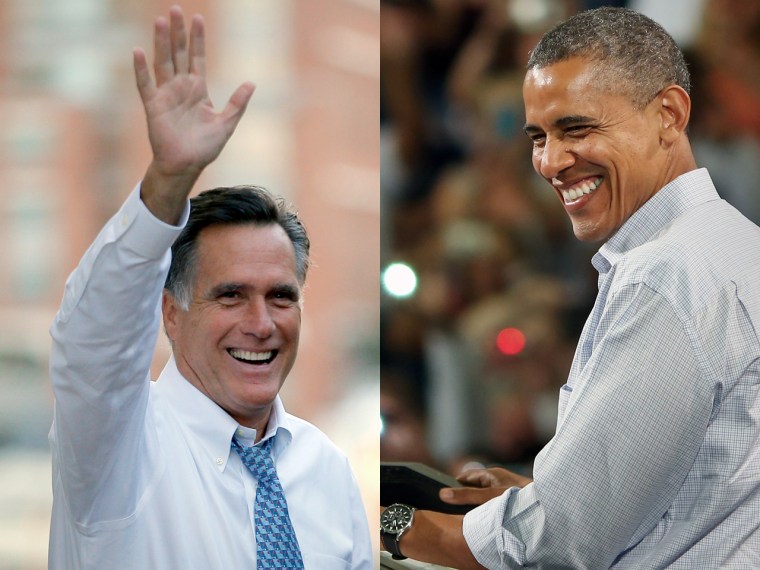 "The fact is that if you are lowering the rates the way you described, governor, then it is not possible to come up with enough deductions and loopholes that only affect high-income individuals to avoid either raising the deficit or burdening the middle class," Obama said. "It's math. It's arithmetic."
With a few exceptions, both candidates largely avoided the snappy, practiced lines that sometimes come to define debates. Their discussion at many times overrode the objections of moderator Jim Lehrer, and some of the topics for debate had to be shortened or cut altogether to accommodate for the candidates' long-windedness.
PhotoBlog: Over beers, laundry and straight razor shaves, Americans tune in to the presidential debate
In a time-honored debate tradition, both campaigns' surrogates declared victory for their candidate of choice. But style for both Obama and Romney seemed as important of a factor as any specific answer. 
Romney entered the debate needing to make up ground versus Obama, and the matchup this evening offered voters their first chance to make a direct comparison between the two of them. The Republican nominee also sought to soften his tone in many respects, a bow toward the net-negative personal approval rating he suffers in many polls.
Truth Squad: The Denver debate
Obama campaign manager Jim Messina told reporters following the debate that the president's long-windedness was "never going to be our strong suit," and acknowledged that Romney had scored "style points."
"This is a race to 270 electoral votes," Messina said. "In states like Ohio and Virginia and Florida, Romney's positions on tax cuts and Medicare are going to be real problems for him. And he doubled down on those all night."
But Obama didn't score a knockout punch against Romney, declining to employ the controversial video about the "47 percent" of Americans whose votes the GOP nominee had essentially dismissed. Obama declined to talk about Romney's record at Bain Capital or the personal income tax rate paid by Romney – two major, effective lines of attack used by the Democratic campaign over the summer.
Romney also parried many of the president's attacks by largely embracing the essence of many of Obama's own policies – from health care to education and regulation – while emphasizing the areas in which the two of them differed.
Romney said he supports repealing the Dodd-Frank financial regulatory reform law, but replacing it with an alternative of his own. He has said that about immigration, and defused a briar patch involving his and Obama's similar health care plans by seizing upon process.
"I like the way we did it in Massachusetts. I like the fact that in my state, we had Republicans and Democrats come together and work together," said Romney. "What you did instead was to push through a plan without a single Republican vote."
Toward the end of the debate, Obama struck back by questioning whether Romney's own promises were too good to be true.
"At some point, I think the American people have to ask themselves, is the reason that Gov. Romney is keeping all these plans to replace secret because they're too good?" Obama asked.
The immediate fallout of the debate will be most quickly reflected in media cycles on Thursday and into the weekend, though it might take days' worth of polling to identify whether tonight's debate moved the needle.
Obama and Romney will next meet Oct. 16 for the second of three debates. Before then, Vice President Joe Biden and Republican vice presidential nominee Paul Ryan will debate next Thursday in Kentucky.