Iowa kicked off the presidential election yesterday, becoming the first state where voters could cast their votes in person for the general election.
27 states and Washington, D.C., will have early in-person voting prior to Election Day.  The campaigns estimate that two out of every five ballots will be filled out before November 6, Election Day.
And one presidential candidate is in much better position to take advantage of the new voting in this dynamic thing we call American democracy.
Here's a look at Mitt Romney's field offices in Iowa. The Romney camp has 12 outposts across the Hawkeye State:
Now take a look at President Obama's operation, his field operation in Iowa.  The Obama campaign has 66 of these outpost offices, a 5.5-1 advantage over Romney:
---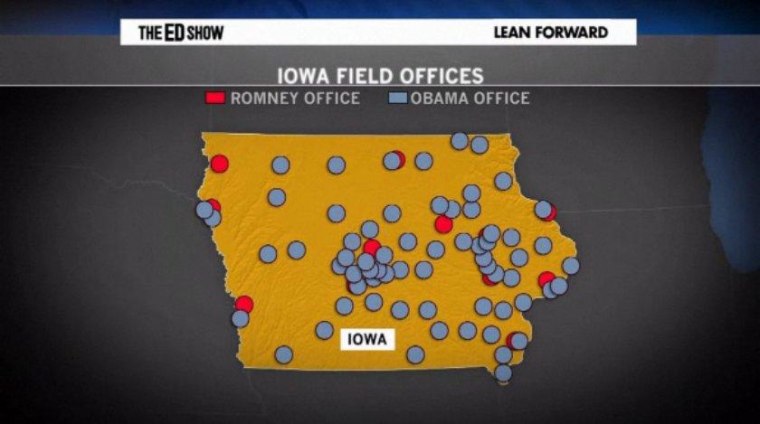 These field offices are the lifeblood of presidential campaigns. This is where campaigns stage their "get out the vote" efforts and organize volunteers.
It's rather stunning for Mitt Romney to be so under-prepared to fight in the ground game in Iowa. He`s had the same problems as the primary candidate. Romney only started making frequent appearances in the state a week before the Iowa caucuses. By then, it was too late. And he lost a tight race.
Romney's campaign should have refocused their efforts, but instead, they find themselves in a huge disadvantage, as the first ballots were cast yesterday.
Here's the complete early in-person voting schedule:
Sept. 27 - Iowa & Wyoming
Oct. 1 - Nebraska
Oct. 2 - Ohio
Oct. 8 - California
Oct. 9 - Indiana
Oct. 11 - Arizona
Oct. 15 - Georgia
Oct. 17 - Kansas & Tennessee
Oct. 18 - North Carolina
Oct. 20 - Nevada & New Mexico
Oct. 22 - Alaska, Arkansas, Illinois, North Dakota, Colorado, Washington dc, Texas, Wisconsin
Oct. 23 - Utah, Hawaii, Louisiana
Oct. 24 - West Virginia
Oct. 27 - Maryland & Florida
Nov. 2 - Oklahoma