KitchenAid, famous for its mixers, is learning the hard way that politics and social media don't mix to the benefit of their famous home appliance brand.
During last night's presidential debate, a staffer tweeted in response to a reference President Barack Obama made about his grandmother, Madelyn Lee Payne Dunham, who died just two days before Obama was elected president in 2008: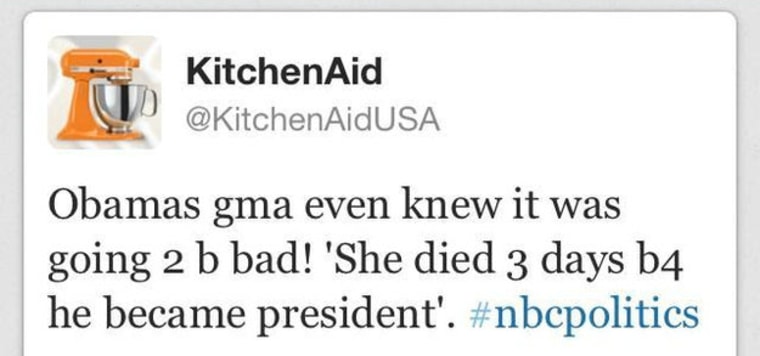 The tweet was quickly deleted, but not before it was retweeted and grabbed as a screenshot.  
KitchenAid's senior director of marketing Cynthia Soledad followed up with a series of apologetic tweets:
---
"I would like to personally apologize to President Barack Obama, his family and everyone on Twitter for the offensive tweet sent earlier," Soledad continued.  "It was carelessly sent in error by a member of our Twitter team who, needless to say, won't be tweeting for us anymore.  That said, I take full responsibility for my team. Thank you for hearing me out."
There are no additional details on what happened to the staffer.