The first vote in the 2012 presidential campaign is just a week away In Iowa and the winner is anyone's guess!  Could Ron Paul wreck the whole thing by winning?  Sam Youngman, the "Election 2012" correspondent for Reuters, and msnbc Contributor David Weigel, Political Reporter for Slate.com, will join Ed to look at what to expect in the home stretch.  
And with one week to the Iowa caucuses, Republicans still aren't happy with their choices.  Weekly Standard editor Bill Kristol is pleading for someone better to get in the Republican presidential primary at the last minute and save the party.  Huffington Post Political Reporter Sam Stein and Salon.com's Editor at Large Joan Walsh look at who else is out there. 
Also tonight: The Mitt Romney lies just keep coming.  This time he says President Obama hasn't created any new jobs.  Excuse us Willard, but the Bureau of Labor Statistics (see chart) says the private sector has added 2.3 million new jobs since March 2010. 
---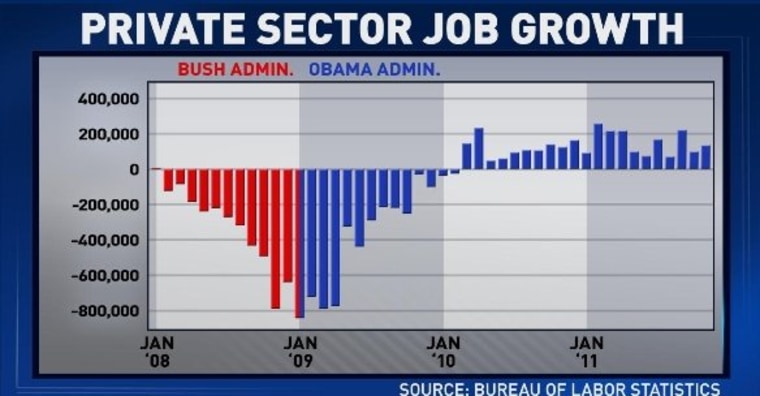 Not to mention that jobless claims have been dropping ever since the stimulus started taking effect.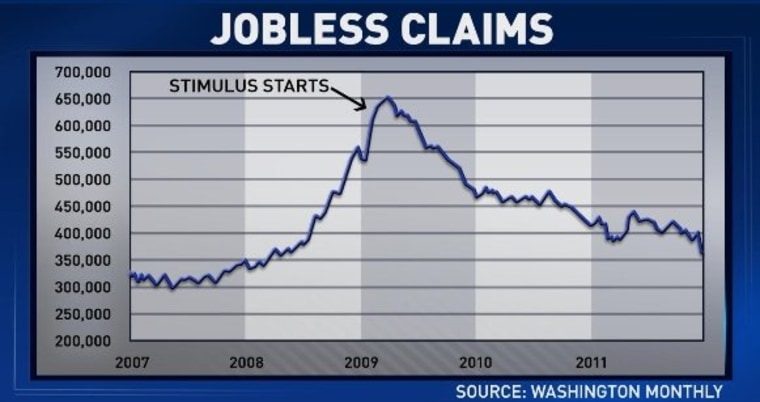 And what kind of "job creation" record does Romney have?  Ed will do some fact checking with Washington Post Columnist and msnbc Policy Analyst Ezra Klein.
Also: Blue Dog Democratic Sen. Ben Nelson of Nebraska says he's not running for a third term.  Ed will explain why this could be a win for the middle class.
As middle class incomes decline, members of Congress have gotten richer.  A lot richer.  Are lawmakers in Washington getting too wealthy to understand the everyday problems of the typical American?
And Wisconsin Governor Scott Walker (R) keeps hammering the state's recall process, saying signatures from Mickey Mouse and Adolf Hitler would count on petitions as long as they are properly dated and include a valid Wisconsin address.  Wisconsin State Senator Lena Taylor and the Nation's John Nichols will explain why Walker is off the mark.
It's going to be a great show at 8pET on msnbc!  
Join the conversation now or during the show by commenting on Facebook and/or tweeting (with the #edshow hashtag) so we can share your thoughts on the show!