You may have heard about Ed's Twitter challenge to Fox News host Sean Hannity to produce the tape or tapes that Hannity says proves President Barack Obama wouldn't have killed Osama bin Laden "if he (Obama) had his way."
Hannity responded, claiming it was torture that led U.S. authorities to bin Laden.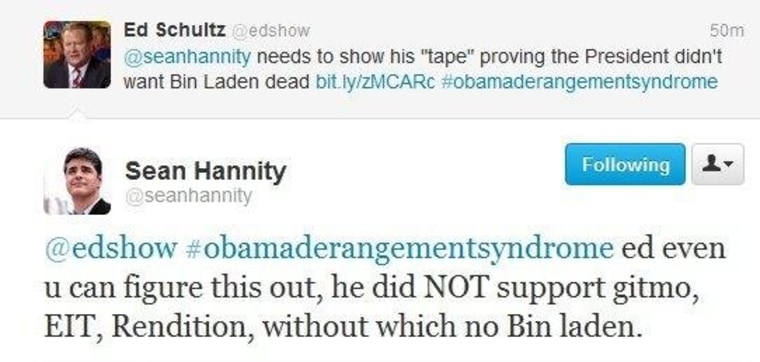 But Ed had the tape that proves Hannity is wrong about that, very wrong.  It shows White House Deputy National Security Advisor John Brennan denying that water boarding had any role in catching bin Laden.
"Show us the tapes proving President Obama didn`t want to kill the number one terrorist in the world, Osama bin Laden, responsible for 9/11," Ed said on last night's show after screening several tapes proving the opposite.  "Your move, Mr. Intellectual Honesty."
Today, actor Alec Baldwin jumped on Twitter to support Ed's challenge:
Sean played his "evidence" on the radio today.  Ed will expose him with the facts again tonight at 8pET on msnbc!
Meantime, Do you think Sean Hannity will ever produce the tapes that prove Pres. Obama didn't want bin Laden dead?  Take our online poll!