Over 100 people were arrested during Wednesday night's Black Lives Matter march in New York City, mirroring the promises made by an eerily robotic NYPD recorded message.
"If you unlawfully obstruct pedestrian traffic, or walk in the streets or roadway, you may be placed under arrest and charged with disorderly conduct," echoed from the truck-mounted LRAD device set up behind barricades in Union Square.  Chants of "no justice, no peace" drowned out the repetitive message, as thousands of peaceful protesters held signs representing various victims of police brutality.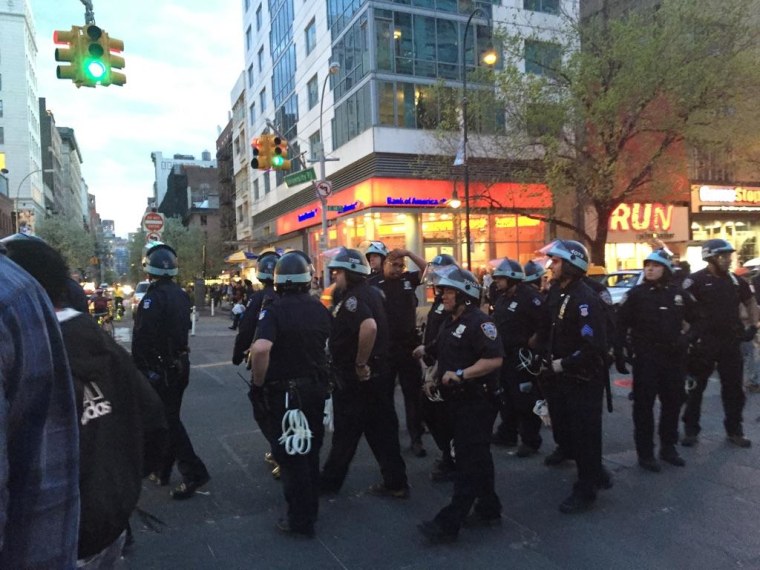 "New York is Baltimore and Baltimore is New York!" the crowd chanted.  Freddie Gray's death while in police custody reignited the movement against what many view as unjust use of force by authorities.  The crowds marching through the streets of downtown Manhattan were a lot like those seen late last year, following the death of Staten Island resident, Eric Garner. 
While portions of Wednesday night's protest turned aggressive, resulting in eyewitness reports of punches thrown by authorities, the overarching theme of the night remained the same:  People are fed up and ready for change.
"It's about time the police are held accountable, they are not above the law," said Marty Rajandran, a member of Granny Peace Brigade, clad in a light orange vest bearing the handwritten words 'Democracy is not a spectator sport.'
"Baltimore isn't just Baltimore. Just like Ferguson wasn't just Ferguson. Just like Ohio wasn't just Ohio. Just like New York wasn't just New York. Isn't just New York," said Keeshan Harley, a young black man wearing a dark hoodie bearing the names of Martin Luther King, Nelson Mandela and Malcolm X in bold green font. "This problem is continuing, it's cyclical. It's toxic."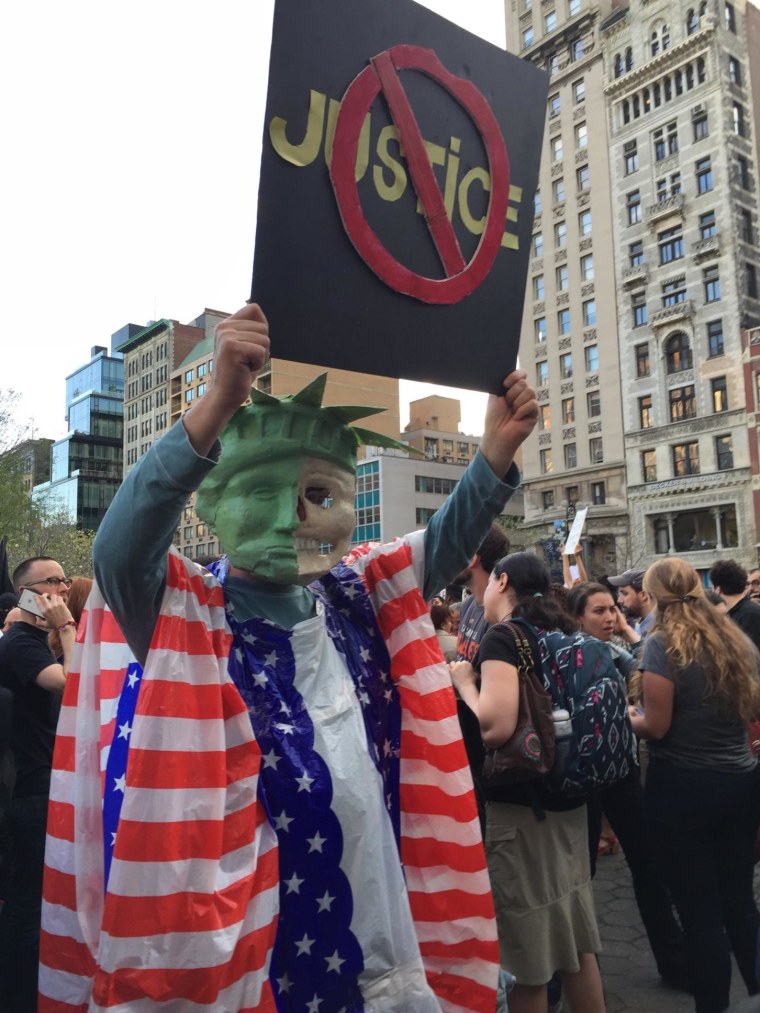 Aimed at creating oversight of the New York City Police Department, the city council created the Office of the Inspector General for the NYPD (OIG-NYPD) in June 2013 .  Their inaugural report, released last month, detailed recommendations addressing among other issues, the police's use of a choke hold which resulted in Garner's death.   Such recommendations included, "NYPD and CCRB should increase coordination and collaboration to reconsider and refine the disciplinary system for improper uses of force." The OIG-NYPD intends to address issues of racial tension and violence still prevalent throughout the community.
People are still skeptical. "Reforming the system as it is isn't the solution, it's not just about passing a few laws or passing a few legislation or changing certain things," said Harley. "We need a whole systemic culture change, we need everything to change about our society."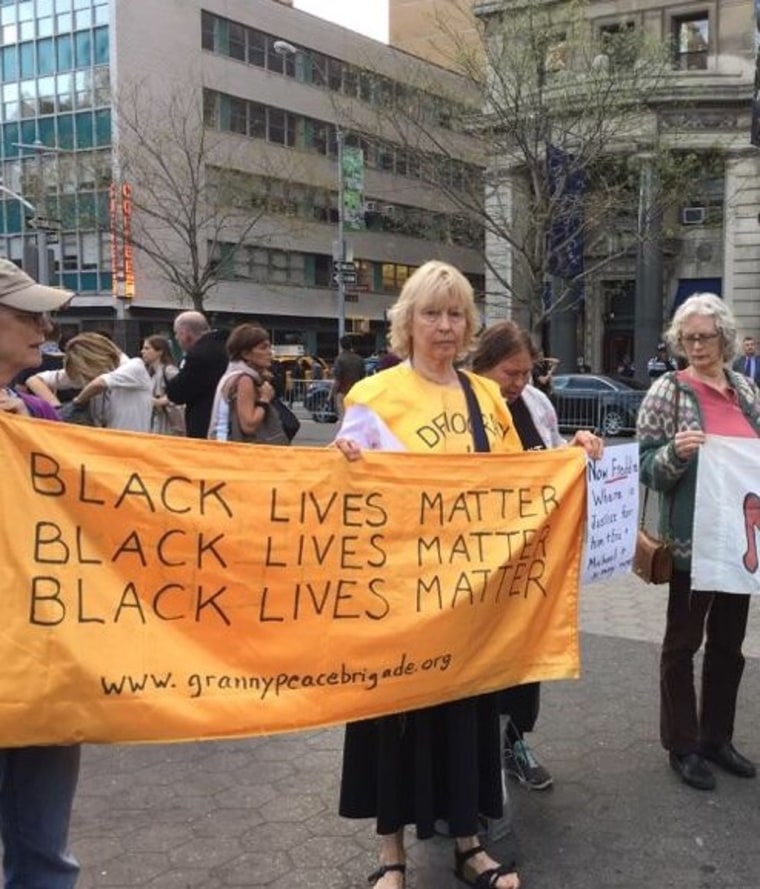 Racial divide in this country isn't new. "It started with this incredible amount wealth in human capital called slaves," said Eva Lee Baird, another member of Granny Peace Brigade. Her fellow 'grannies' chimed in with similar thoughts, echoing the strong language President Barack Obama used during a joint press conference with the Prime Minister of Japan.
"This has been a slow rolling crisis, but this has been going on for a long time," Pres. Obama said on Tuesday.
"This is very historical that people are finally coming out saying what's wrong with our city," said Cassandra Schriffen, a New York City public school teacher holding a spray painted sign bearing the likeness of Freddie Gray.
Protesters plan for another rally for May 1st.  The movement is alive. "Fight for everything," said Miss Black America New York, Sasha Hampton. "Fight for your people."