This year's Conservative Political Action Conference is starting to look like an off-year Republican Convention with a who's who list of scheduled speakers.
CPAC, as the convention is known, will feature more than two dozen high profile Republicans, including former Governor Mitt Romney.
Former Republican presidential nominee Mitt Romney, R-Mass., will return to the spotlight next month and deliver a speech at the conference. The former governor has kept a decidedly low profile since a bruising loss last November.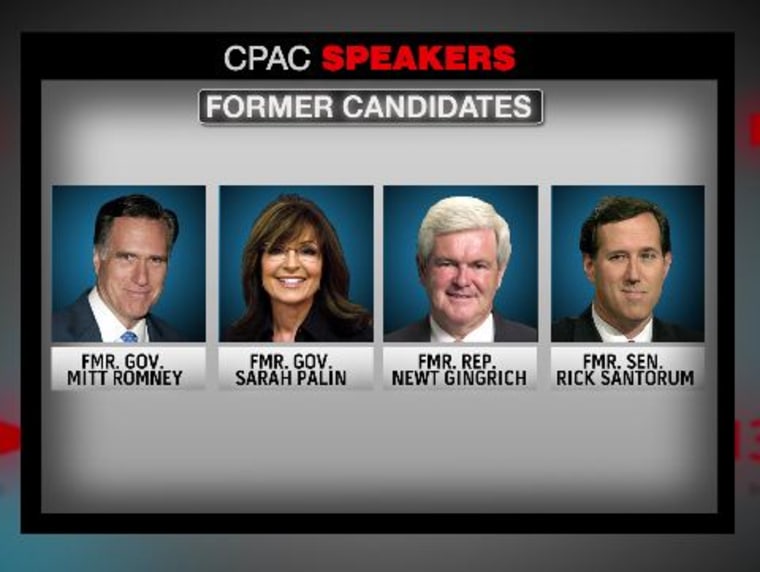 It will be Romney's first public speech since his concession on election night. In statement, Romney said he looks "forward to saying thank you to the many friends and supporters who were instrumental in helping" his campaign.
As NBC's First Read writes, "Romney's participation begs this question: Just who isn't coming to CPAC?"
Among the other former presidential contenders attending: former Sen. Rick Santorum, R-Penn., former Speaker of the House Newt Gingrich, R-Georgia, and former Republican Vice Presidential nominee Sarah Palin, R-Alaska.
The list of speakers will include potential 2016 candidates as well. Former Gov. Jeb Bush, R-Fla., Rep. Paul Ryan, R-Wisc., Sens. Marco Rubio, R-Fla., and Rand Paul, R-Ky., are all scheduled to attend the event.