The coming year may be President Obama's last chance to live up to his own hopes of becoming a true difference-maker in the Oval Office. But instead of brimming with confidence, a new portrait finds the President frustrated by his circumstances. It paints the picture of a man who once promised to change the culture of Washington but now seems semi-defeated by it.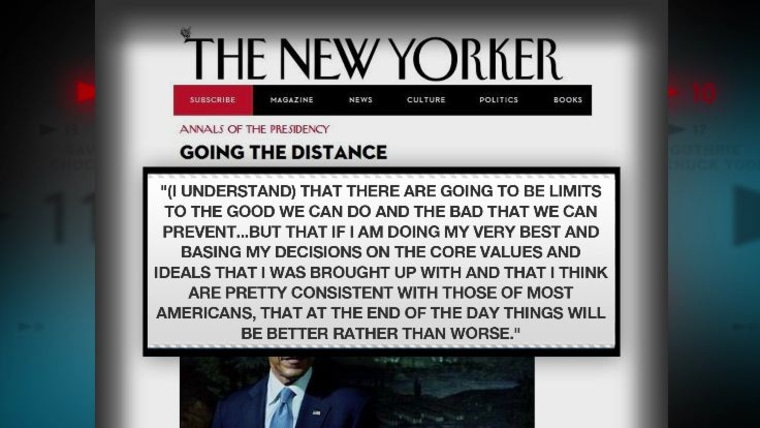 The New Yorker's David Remnick got some exclusive time with President Obama at the end of last year. The interview didn't break much policy ground, but is notable for the tone of the article and its insight into a president seemingly trying to lower expectations. While discussing his second term prospects President Obama said, "(I understand) that there are going to be limits to the good we can do and the bad that we can prevent...but that if I am doing my very best and basing my decisions on the core values and ideals that I was brought up with and that I think are pretty consistent with those of most Americans, that at the end of the day things will be better rather than worse."
On the foreign front, the President has been forced to make difficult compromises when it comes to deal with Iran, Syria and peace in the Middle East. President Obama says the odds of completing final deals on any of them are less than 50-50 and added that, "in all three circumstances we may be able to push the boulder partway up the hill and maybe stabilize it so it doesn't roll back on us." 
President Obama gave his most direct response yet to the question of whether race plays a role when it comes to his political opposition. "There's no doubt that there's some folks who just really dislike me because they don't like the idea of a black President... There is a historic connection between some of the arguments that we have politically and the history of race in our country, and sometimes it's hard to disentangle those issues."