America's engineers say the country's infrastructure is not making the grade.
Even after the American Recovery and Reinvestment Act, the nation's current infrastructure status gets a D+ grade on the newly-released report card from the American Society of Civil Engineers (ASCE). The country usually gets bad grades in this report, and this year it actually showed slight improvement from a D in 2009.
Still, all of the best grades were B- and below:
Solid waste: B-
Rail: C+
Bridges: C+
Ports: C
Public parks and rec: C-
Everything else was D+ or worse: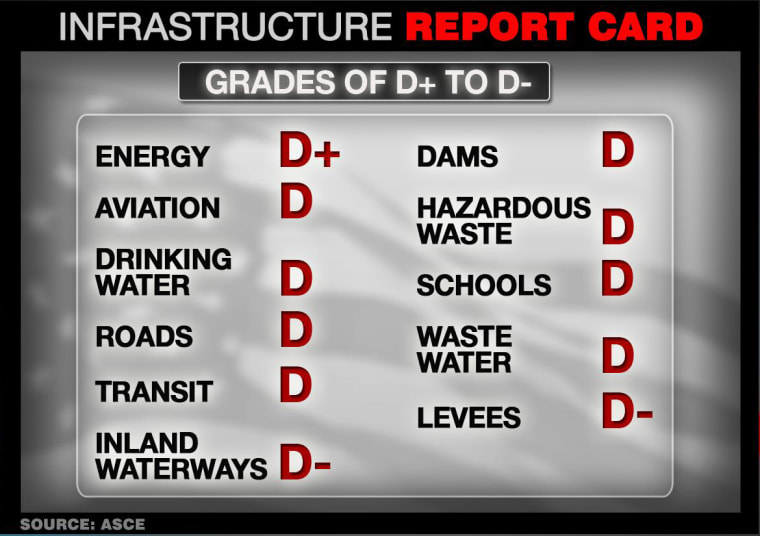 "What it tells us is those areas where we actually did get better grades, we have made some investments in infrastructure, and that's the point," Greg DiLoreto, President of ASCE, told The Daily Rundown guest host Chris Cillizza. "Not just to get a better grade, but actually to make these investments and improve our economy."
The ASCE is pushing more leadership in infrastructure renewal, promotion of sustainability, and development and funding for plans to maintain and enhance infrastructure. They say the country needs $3.6 trillion in investment by 2020, the kind of funding that will need action by voters and legislators at the federal, state, and local levels.
Former Democratic Pennsylvania Governor Ed Rendell said that every politician promises they'll support funding for infrastructure projects, but "don't act upon it."
"President Obama did invest in infrastructure in his stimulus. Not enough. The ASCE estimates we need to spend $200 billion a year more in the next 8 years to just get our infrastructure into fairly good shape," he said. "Politicians have to understand: there is a difference between investing and spending."
In an era when a lot of what gets done legislatively happens because of urgency or crisis, and when many states and local municipalities are dealing with difficult budget situations, it could be hard to persuade politicians and the public to spend the dollars needed to improve these resources now.
Rendell says the funding needs to be connected to aggravations that people encounter in their daily lives, like traffic jams.
"You sit in traffic because our roads are congested," he said. "Since 1980, vehicles on the roads have increased by 105%. Our lanes have increased by 4%. You waste more gas sitting in traffic than a 5 cent increase in the gas tax would cost you if you were an average driver. We've got to get Americans to think long term."
The ASCE claims 42% of major urban highways are congested, costing $101 billion a year in wasted fuel and time.
Rendell added, "This is a long-term investment. Every one of the G-20 nations has made it the last 15 years. It's time for America to do what we've always done: do big things and invest in our infrastructure."