One hundred and sixty-four.
With all votes finally counted in the Virginia attorney general's race, that's how many votes Democrat Mark Herring now leads Republian Mark Obenshain by in the Virginia attorney general's race.
"Voters in Virginia have spoken, their voices have been heard and I am honored to have won their votes and their trust to become Virginia's next Attorney General," Herring said in a statement. "Over the course of the past week, a thorough and extensive process has ensured that every vote has been tallied and accounted for. The margin was close, but it is clear that Virginians have chosen me to serve as the next Attorney General."
Despite his declaration of victory, the slim margin is unlikely to be the last word, and the closely-watched contest is probably headed for the courts. It isn't official until the state certifies final returns on November 25.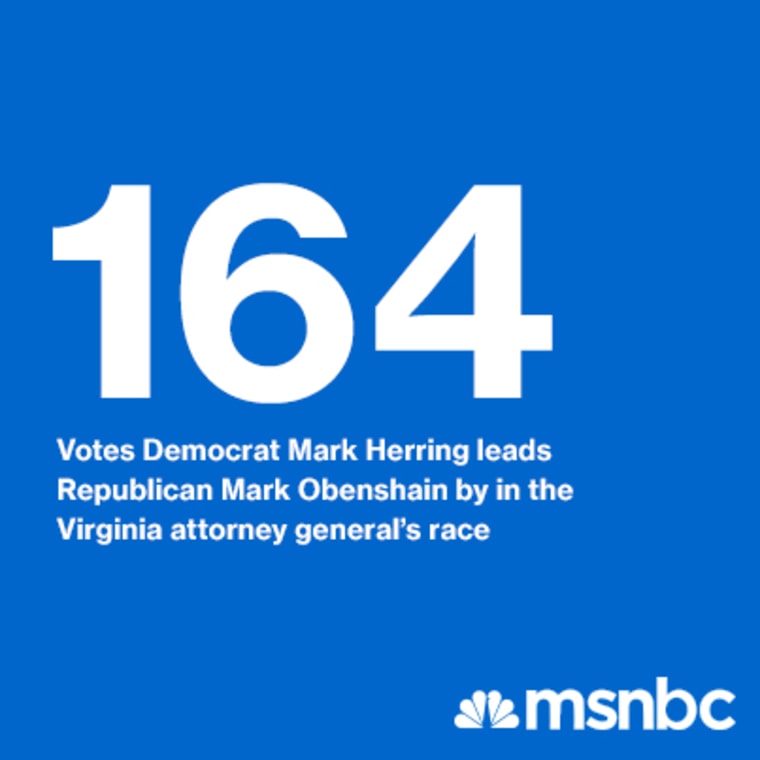 But if his lead holds, Democrats have reason to celebrate. The party also won the gubernatorial race, though Terry McAuliffe's victory was closer than expected. (And Democrat Ralph Northam scored a solid win for lieutenant governor.) A possible Democratic sweep attests to the changing demographics of the state--and perhaps also lingering post-shutdown anti-GOP feeling in a state that is heavily dependent on federal jobs.
Herring's rival, Mark Obenshain, urged caution, noting that there was " a difference of fewer than 200 votes out of more than 2 million votes cast. That's less than 1/100th of a percent difference."
"We have seen significant swings in the vote count over the last several days as errors are corrected as a part of the regular canvass process," Obenshain said in a statement. "The State Board of Elections will now conduct its own review and we will await their results. I thank our dedicated election officials who have put in long hours and given great care to their duty. We will make further announcements in the days ahead."
Late Tuesday evening though, after Democratic-leaning Fairfax County, the state's most populous, finally announced its final results after counting its remaining disputed provisional ballots, all localities had finished their counts to send to the state board of elections. 
Under the microscope were 493 provisional ballots. According to the Washington Post, by Monday evening the Fairfax County electoral board had approved 172 provisional ballots and rejected 138. Since Friday, 136 voters who cast provisional ballots showed up at the elections office to make sure their votes were counted. On Tuesday, the board examined 183 remaining ballots, which split 163 for Herring and 103 for Obenshain, according to NBC4. 
The Fairfax County ballots have been the center of much controversy since eagle-eyed election watchers on social media, including the non-partisan Cook Political Report's David Wasserman, realized that there were likely many outstanding absentee ballots in the county. 
The critical county's efforts to count its provisional ballots came under scrutiny. According to WTOP, a ruling from the state electoral board last Friday instructed the county to no longer allow legal representatives from either party to appear before the board to argue for ballots to be counted unless voters who cast the ballots are there. Members of the local board said they disagreed with the ruling but would comply. 
With such a razor-thin margin out of more than 2.2 million votes cast, the race is among the closest in recent history. At one point this weekend Obenshain had pulled ahead by a mere 17 votes before the advantage tipped again in favor of Herring. But after more than 200 provisional and previously overlooked ballots in Richmond were counted Monday, Herring took the lead by a 117 votes on Tuesday morning. With all localities from around the commonwealth reporting their final totals with provisionals, Herring's lead climed to 139, with Fairfax votes still to be counted.
Obenshain was the last Republican left standing as the GOP hoped to stop a Democratic wave from last Tuesday in the commonwealth. Democrat Terry McAuliffe won the gubernatorial race, and Ralph Northam, another Democrat, won the lieutenant governor race. The attorney general contest was long expected to be the tightest with the GOP nominee running a more effective, smarter campaign than the top of the ticket, according to many Republicans. 
Tuesday was the deadline for local boards to certify their results and send them to the state before the Virginia State Board of Elections certifies its final returns on November 25. After that date, if the margin still remains within one percent, the trailing candidate can request a recount. Unless the margin is less than half a percent, the candidate must pay for the recount. 
Close attorney general races, often a stepping stone to the governor's office, are nothing new to Virginians recently though. In 2005, now-Gov. Bob McDonnell (R) narrowly prevailed by just 360 votes over Democrat Creigh Deeds in the attorney general's race after a recount that lasted until December 21. McDonnell later handily beat Deeds in the 2009 governor's race.  
 This story has been updated to reflect current vote tally.