By NBC's David Murphy
An Election Day tie in the Electoral College is unlikely, but it's not impossible. In fact, it's happened before. In the election of 1800, when party politics were brand new, each elector was allowed to cast two votes for President.  The idea was that whoever came in first would be President and whoever came in second would become Vice President. The plan hit a snag, however, when Thomas Jefferson and Aaron Burr, both members of the new Democratic-Republican party, each received 73 electoral votes. 
The matter was sent to the House, where each state was allowed to cast one vote for President, with the winner needing the majority of the 16 states. 35 times the House voted and 35 times the vote was 8 to 6 with 2 states abstaining because their delegations were split. No majority. Finally, after much backroom negotiating, most notably by Alexander Hamilton, Burr-supporting congressmen from the deadlocked states of Maryland and Virginia chose not to vote, allowing the states to throw their support behind Jefferson on the 36th and final ballot.
Frustration over the messy process forced Congress to move quickly to find a solution. The Twelfth Amendment was proposed in late 1803 and ratified less than seven months later, just in time for the election of 1804.  The Amendment laid out an emergency plan in case of another electoral tie. It required electors to cast separate ballots for President and Vice President to eliminate the possibility of an 1800 repeat.  It also created contingencies.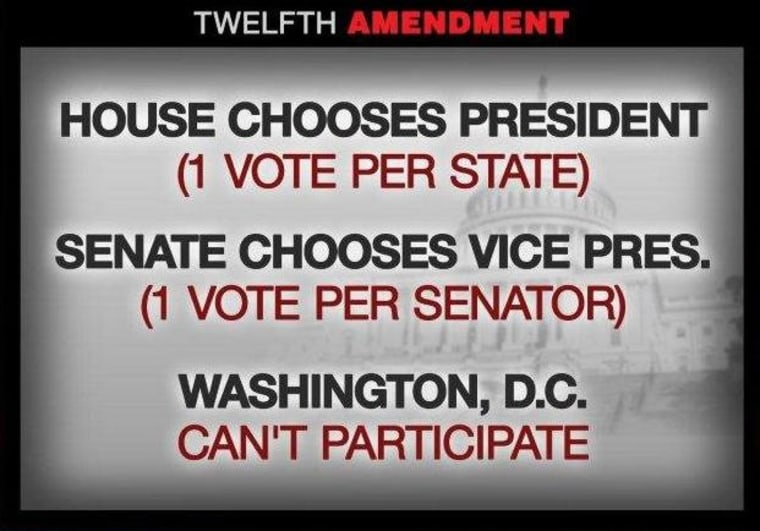 According to the amendment, if there's a tie, the House of Representatives would vote for President, with each state being allowed one vote. Washington, D.C. isn't allowed to participate since it's not a state.  If there's a tie, the House would continue voting until a winner is decided, just as it did in 1800. The Senate would vote for Vice President, with each senator getting one vote. That means if the bodies were governed by different parties, as they are now, it's possible that the House, for example, could vote for a Republican president, while the Senate votes for a Democratic Vice President. So what if the stars align and there's a tie in the electoral college and the Senate as well?  In that case, the sitting Vice President, in his role as the Senate president, would cast the deciding vote, even if it were a vote for himself.  How's that for electoral chaos?