The co-chairs of the president's fiscal commission are selling a grand bargain yet again. Former Republican Senator Alan Simpson and Democrat Erskine Bowles appeared this morning on The Daily Rundown to unveil a new $2.4 trillion deficit reduction plan. The duo has tried multiple times over the past three years to persuade Washington to come together behind a bipartisan package of spending cuts and tax increases. They have no trouble winning praise for their efforts, but they've had a much harder time acquiring votes.
The new Simpson-Bowles plan would reduce the deficit by $2.4 trillion dollars over the next decade, more than the White House goal of $1.5 trillion. Roughly a quarter of those savings, $600 billion, come from savings generated by a set of detailed  reforms to health care programs. Another $600 billion come from new revenue through tax reform. The remaining $1.2 trillion dollars derive from a combination of mandatory spending cuts, lower caps on discretionary spending and other budgetary changes. They also adopt the so-called "chained CPI," a measure of inflation which the president has been open to but other Democrats oppose.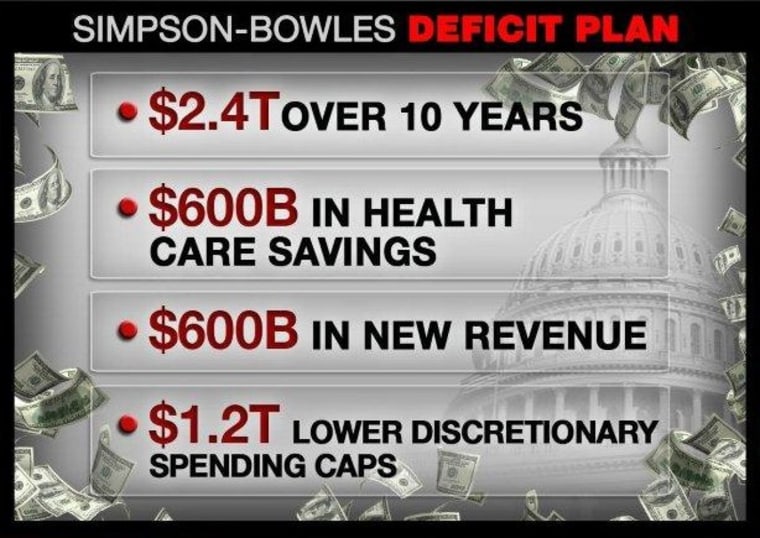 The pair each had advice for their own party. Bowles' message to Democrats: "We've got to get serious about bending the health care cost curve, and to get serious about it one of the things you have to focus on is the aging of the population... We raise the retirement age for Social Security one year 40 years from now, and one more year 65 years from now."
Simpson cautioned Republicans, "We're not talking about a tax increase. We're talking about going into a system that has over a trillion a year in tax expenditures-- gimmickry, spending, earmarks by another name-- go dig into that and start pulling that stuff out."
As usual, Simpson came armed with straight talk, telling critics, "I would say to people before you begin to drool at the mouth and go crazy and scratch our eyeballs out, read the damn report... Use your bean instead of listening to crap all day long from the right and the left."