Even if lawmakers manage to patch together a limited, short-term deal to avoid the most immediate economic effects of the fiscal cliff, Congress may have already fallen off a political cliff.
The 112th Congress will adjourn as the least productive Congress on record. Just 219 bills passed by the 112th Congress have been signed into law. The last Congress passed 383 bills.
The Congress before that shepherded 460 bills into law. President Harry Truman's "Do-Nothing Congress" passed more than three times as much legislation as this year's House and Senate managed; 906 bills became law in 1947-48.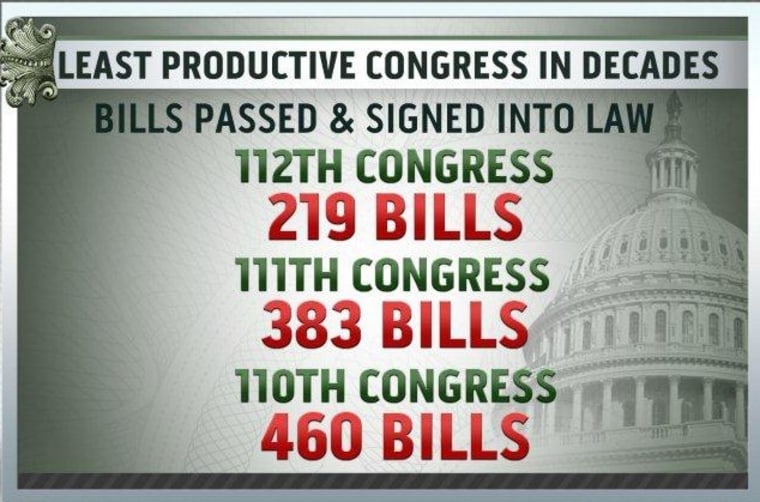 Some conservatives, who believe the role of government should be limited, like it that way. But Congress is not just unproductive, it's unpopular. The last time the NBC News/Wall Street Journal poll measured Congress' approval rating, it was barely in double digits at 12%. 82% disapproved of Congress—the highest percentage in the history of the poll.
In Washington, old hands are used to eleventh-hour deals, but now even striking deals on issues that used to be routine is no longer a given.
Case in point: the "dairy cliff." Milk prices could double to between $6 and $8 dollars a gallon in January because Congress has failed to agree on a new farm bill. If nothing is done, the rules governing dairy price supports revert to a law passed 63 years ago in 1949. Congress has not been able to agree to reforms to the Postal Service which would keep it solvent.
The appearance of former Republican Majority Leader Bob Dole seated on the Senate floor in early December did not stop Republicans from voting down a United Nations treaty aimed at promoting equal rights and better treatment for the disabled. The Violence Against Women Act, which has had bipartisan support since it was first passed in 1994, lapsed because Republicans opposed its expansion to gay and immigrant victims of domestic violence and sexual assault.
For the first time since 1970, the House and Senate are holding roll call votes between Christmas and New Year's Day. With just hours before sweeping tax hikes and across-the-board spending cuts become law, even members of Congress are disgusted and embarrassed. West Virginia Senator Joe Manchin railed on the Senate floor Sunday, "Something has gone terribly wrong when the biggest threat to our American economy is our American Congress."
Ohio Republican Congressman Steve LaTourette, who is among the dozens of moderates leaving the House in January, said ruefully after a meeting of House Republicans, "When the future of the country rests in the hands of 70- and 80-year-olds who have jetlag, it's probably not the best thing."
This weekend on "Meet the Press", President Obama argued Abraham Lincoln's example demonstrates that "democracy has always been messy." When Lincoln's America splintered, it left at least 620,000 dead, a number which brings perspective to the current hand-wringing. Still, with red Congressional districts becoming redder, and blue districts becoming bluer, it's unclear what will bridge the ideological gap, and make divided government work better.