The number of Americans who believe their income taxes are "fair" hit the lowest percentage since 2001, but it remains over the halfway mark at 55%, according to Gallup figures. Most of that decline is attributed to people who call themselves conservative Republicans.
So what's the White House doing on this tax day? For the third consecutive year, the Obama administration is offering taxpayers an online tool to "understand how and where" their federal tax dollars are being spent. The gadget, called "Your 2012 Federal Taxpayer Receipt," allows users to enter how much they paid in Social Security, Medicare, and income taxes in 2012, then calculates a personalized breakdown of what money went where.
For a married person with one child earning $50,000 a year, nearly 25%--$245--of his of her total income tax payment went to national defense spending in 2012. Another $223 went to health care. The tool breaks down those categories even further--national defense gets divvied up into military personnel salaries, "atomic energy defense activities," and so forth.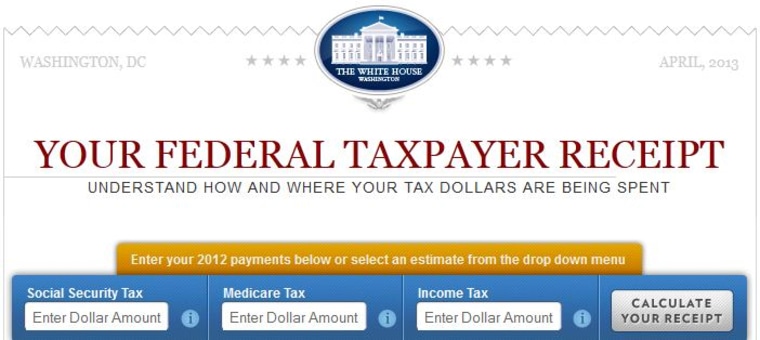 The Taxpayer Receipt is President Obama's delivery on a promise he made in his 2011 State of the Union Address, according to the White House blog. "Because you deserve to know exactly how and where your tax dollars are being spent," Obama said back in 2011, "you'll be able to go to a website and get that information for the very first time in history."
But per today's new survey, the White House's "show me and I will remember, involve me and I will understand" approach doesn't seem to be working in terms of public perception. Though opinions of income tax fairness are remarkably consistent among the rich and the poor, the big difference comes down to politics. Seventy percent of people who identify themselves as liberals believe their taxes are fair, versus 59% of moderates, and 45% of conservatives.
If the administration can't win taxpayers over on transparency, though, they've got a back-up plan to fire up the base: The Buffett Rule Calculator, with tag line, "Find out how many millionaires pay a lower effective tax rate than you."
Obama and his wife Michelle paid a rate of 18.4%.