New in this version: U.S. sends Navy destroyers to Libyan coast; two other victims identified as State Department employees
Updated at 7:08 p.m. ET: U.S. officials told NBC News on Wednesday that they couldn't rule out the possibility that al-Qaida-inspired Islamist militants were responsible for the attack in the eastern Libyan city of Benghazi that killed Christopher Stevens, the U.S. ambassador to Libya, and three other Americans.
U.S. and Libyan officials, independent analysts and postings on Islamist websites from known militant activists suggested that the attack — which officials had previously suggested was retaliation for release of a movie critical of the Muslim Prophet Muhammad — may have been an orchestrated assault, noting that it occurred on the 11th anniversary of the Sept. 11, 2001, terrorist attacks in the U.S.
The State Department ordered all "non-emergency" U.S. personnel out of the country, but officials told NBC News that as of now there was no plan for a total U.S. evacuation.
U.S. officials said the Navy is positioning two guided-missile destroyers off the Libyan coast to provide "additional military options" if needed.
The USS LaBoon had already arrived off the coast of Libya, officials told NBC News. The USS McFaul was expected to arrive Thursday. Both are based at Norfolk, Va., and are listed as having crews of 338.
---
Attack on the Libya consulate, as it happened
 In addition, the Defense and State departments were considering sending additional Marines to other potential trouble spots, including Cairo and Kabul, which have both seen sectarian flare-ups against the U.S.
At a briefing for reporters, Libya's interim president, Mohammed el-Megarif, suggested that the attack was timed to coincide with the anniversary specifically to "destroy democracy in Libya."
Al-Qaida leader Ayman al-Zawahri released a video Tuesday marking the anniversary. In it, he called for Islamists to seek revenge for the killing by a U.S. drone strike of deputy al-Qaida leader Abu Yahya al-Libi in June.
Online postings Wednesday from Islamist militants were celebrating the attack as payback for his death, said Evan Kohlmann, an Middle East and terrorism analyst for NBC News. One of the postings claimed responsibility for the attack in the name of Ansar al-Sharia, a Sunni Muslim militant faction.
Follow live developments from Libya on BreakingNews.com
Noman Benotman, a Libyan-born senior strategy analyst for the Quilliam Foundation, an antiterrorism research group in London, also said the organization's intelligence indicated that the attacks were "committed by uncontrollable jihadist groups," not by a protest mob that spontaneously erupted into violence.
Quilliam said on its website that its sources, some of whom it said were in Benghazi itself, reported that about 20 militants carried out the attack using rocket-propelled grenade launchers.
That appeared to square with an eyewitness account cited by Libya Herald, which quoted a demonstrator at the consulate as saying a protester fired a rocket-propelled grenade launcher at a police vehicle but hit the consulate building on Venezia Street, instead.
The Voice of America, meanwhile, cited similar reports that "several dozen gunmen from the Islamist group Ansar al Sharia" may have carried out the attack.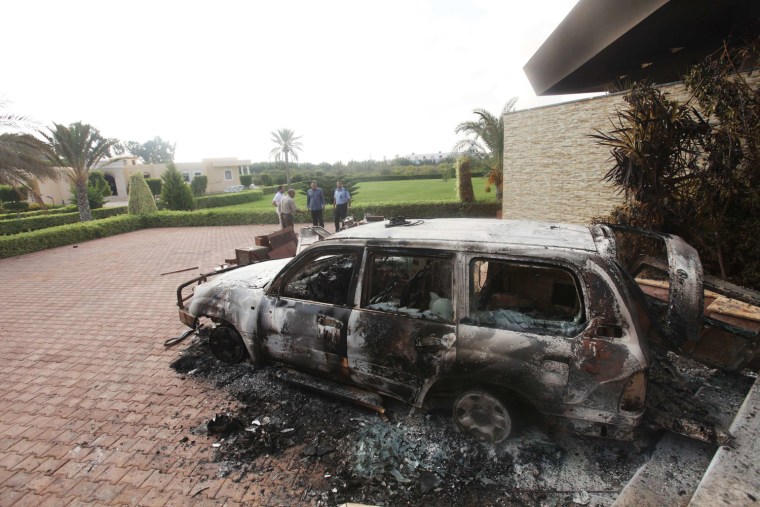 Tommy Vietor, a spokesman for the National Security Council, said "it would be premature to ascribe any motive to this reprehensible act," but other U.S. officials said they couldn't rule out the possibility of a link to al-Liby's death or the Sept. 11 anniversary, saying the attack was too sophisticated to have been spontaneous.
In the aftermath, officials told NBC News that they were preparing to send as many as 200 Marines to Libya to bolster security around the U.S. Embassy in Tripoli. The Marines' Fleet Anti-Terrorism Security Team would be deployed from a Marine Amphibious Ready Group already positioned aboard a helicopter carrier in the North Arabian Sea, the officials said.
Obama condemns attackPresident Barack Obama condemned the attack, in which the Americans were killed after protesters stormed the U.S. consulate Tuesday night in Benghazi.
"Make no mistake: Justice will be done," Obama said Wednesday.
Stevens, 52, was the first U.S. ambassador to be killed during an assignment since Adolph Dubs was slain in an exchange of gunfire during a kidnapping attempt in Afghanistan in 1979.
The State Department identified a second victim as Sean Smith, a Foreign Service information management officer and father of two children. Smith had previously been posted to the U.S. Consulate in Montreal, the U.S. Mission in Canada confirmed.
The State Department said the families of the two other victims were still being notified. U.S. officials would say only that they were employed by the State Department.
Ambassador Stevens was 'courageous and exemplary,' Obama says
 "While the United States rejects efforts to denigrate the religious beliefs of others, we must all unequivocally oppose the kind of senseless violence that took the lives of these public servants," Obama said in a statement.
Vice President Joe Biden, meanwhile, insisted the U.S. wouldn't be driven from the country.
"We never have been, and we never will be, run off, period," Biden said at a campaign event in Dayton, Ohio. "That's not who we are."
Secretary of State Hillary Rodham Clinton said Wednesday that the attack "should shock the people of all faiths around the world."
"I ask myself, how could this happen? How could this happen in a country we helped liberate, in a city we helped save from destruction?" she said. "This question reflects just how complicated and, at times, how confounding the world can be."
U.S. Muslims said they were concerned about possible retaliatory attacks on their mosques, the Washington-based Council on Arab-Islamic Relations said Wednesday as it also condemned the attacks.
"We're starting to get hate calls, and we'd already seen a wave of anti-Muslim incidents," Ibrahim Hooper, a spokesman for CAIR in Washington, told NBC News. "Muslims have to feel insecure."
Romney slams Obama over attacks on US officials in Libya, Egypt
Stevens apparently asphyxiated by smokeDescriptions of Tuesday's attack depicted chaos and bloodshed, with Libyan security overrun and retreating.
Stevens died of severe asphyxiation, apparently from smoke, Ziad Abu Zeid, a Libyan doctor who treated him, told The Associated Press.
Stevens was practically dead when he arrived close to 1 a.m. Wednesday (7 p.m. ET Tuesday), and "we tried to revive him for an hour and a half but with no success," Abu Zeid said. The ambassador was bleeding in his stomach because of the asphyxiation but had no other injuries, he said.
Demonstrations in Benghazi and in Egypt broke out Tuesday following news reports about the anti-Islamic video, which — if a trailer posted on YouTube is representative — features an amateur cast performing a wooden dialogue of insults disguised as revelations about Muhammad.
More Middle East & North Africa coverage on NBCNews.com
Full World coverage on NBCNews.com
The attacks were the first such assaults on U.S. diplomatic facilities in either country, at a time when both Libya and Egypt are struggling to overcome the turmoil following the ouster of their longtime leaders, Moammar Gadhafi and Hosni Mubarak, in uprisings last year.
The events appeared to underscore how much the ground in the Middle East has shifted for Washington, which for decades had close ties with Arab dictators who could be counted on to muzzle dissent.
More world stories from NBC News: