As President Obama stated Monday during his final press conference of his first term, "it has been a busy and productive four years and I expect the same in the next four years. I intend to carry out the agenda that I campaigned on."
It certainly has been a busy four years for President Obama and the president has accomplished  a lot during his first term. As the president nears Inauguration day it is clear he is gearing up for a fight during his second term. From his cabinet nominations to his words to Congress regarding the debt ceiling, the president is not looking to back down and hoping to take the momentum of his first term into his second. According to a recent Gallup poll, President Obama's approval rating is at 52%, which is currently higher than his 2009-2012 average of 49%.
However, another Gallup poll points out how U.S. Presidents are typically less popular in their second term than they were in their first. So how will President Obama fare in his second term? Will he fall victim to the second-term curse?
According to Professor Ahkil Reed Amar, who teaches constitutional law at Yale University and author of the Atlantic Article "Second Chances" says President Obama can beat the odds and have a successful second term he just has to follow these key tips: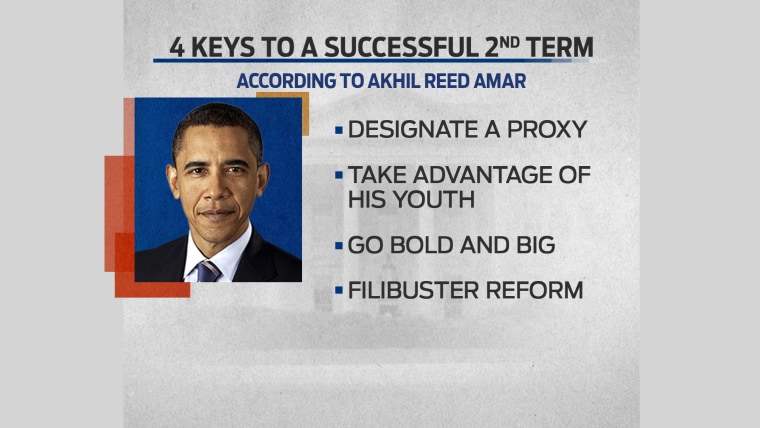 "The most important is to be succeeded by a like-minded successor, a wing man or woman so to speak. The last line is nothing succeeds like succession. The most successful presidents basically inherited a world in which the other political party was dominate. They first won election then they won re-election and when they handed off power to someone like-minded and that coalition prevailed for a very long time," Professor Amar added.
Lucky for President Obama "he has an heir and a spare" when it comes to successors for the presidency. Vice President Biden and Secretary of State Hillary Clinton are both two good options to become the next Democratic nominee in four years.