AURORA, Colo. – Well-wishers, shocked townspeople and family members of the victims sang and prayed Sunday night and vowed to remember those who died in a horrific movie theater shooting rampage, not the act of violence that tore apart their quiet city.
"We are a family in Aurora," said Aurora Mayor Steve Hogan. "We are good hard-working people who believe in the goodness of our fellow man. We are coming together as a family would."
Colorado Gov. John Hickenlooper read aloud the names of the 12 people killed in the shooting, and after each one the crowd chanted in unison: "We will remember."
Hickenlooper also deliberately avoided mentioning the name of the 24-year-old suspect, James Eagan Holmes, who allegedly wounded 58 other theatergoers at Friday's Batman movie premiere. "I refuse to say his name," he said. "In my house, we're just going to call him Suspect A."
---
At the conclusion of the vigil outside Aurora City Hall, members of the crowd held aloft lit candles and sang "Amazing Grace."
Tears flowed freely among the hundreds of mourners who packed a grassy area for the ceremony, but overall the crowd seemed surprisingly upbeat. Many in attendance held flags, flowers, signs and balloons. Among the messages on the signs: "Like the dark knight, we will rise again. We are all Colorado," and "Be praying for families! Colorado is family!" A large banner at the rear read, "Angels walk with those who grieve." 
Many of those at the vigil knew at least one of the victims, or their family members.
Deajanae Elliott was part of a group of several dozen friends of shooting victim Micayla Medek, 23, who wore Hello Kitty regalia to honor the 23-year-old, a big fan of the Japanese cartoon character: Some held candles in Hello Kitty cups, many wore pink T-shirts and others sported stickers or temporary tattoos. 
"She's looking down and smiling at us with all the Hello Kitty she sees," said Elliot, who attended high school with Medek. 
A group of postal workers turned out to support colleague Tom Sullivan, whose 27-year-old son, Alex M. Sullivan, was among the dead. Among them was Charles Garcia, 55, who said his son was in another room at the theater when the shooting occurred. Two of his son's coworkers also were shot, including one of the dead, Matt McQuinn. 
"He's seeing a counselor," Garcia said. "He's just having trouble grasping why a senseless thing has to happen like this."
Joey Maestas, 25, a graphic designer from Brighton who works in the Aurora area, said he came to seek something positive amid the tragedy.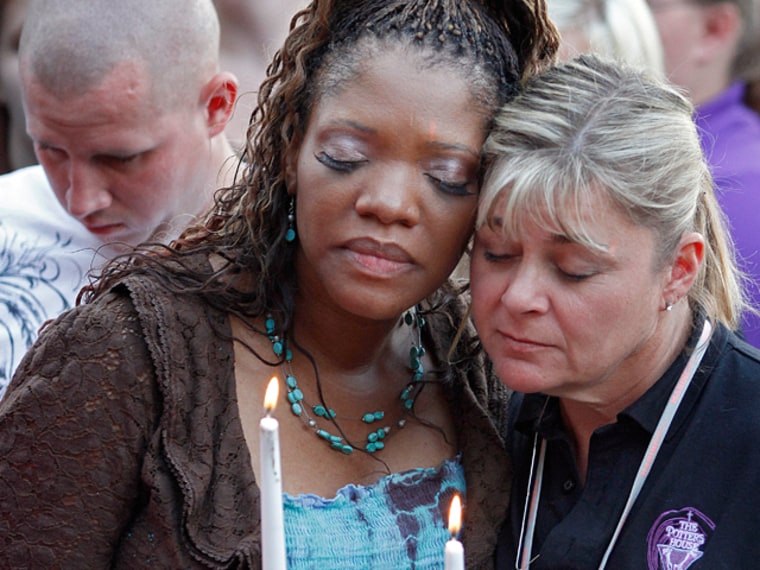 "It's the best way to remember the ones we lost," he said of the vigil.
"To come together and to find love in tragedy and .. not dwell on who we lost, but be thankful for what we have," he said. "When Hickenlooper said ... 'I won't say his name,' that was amazing. It was a good battle cry ... to not give into this guy and his agenda and wanting to push fear." 
As the vigil was getting under way, President Barack Obama addressed the media at a nearby hospital, where many of the victims were treated.
"I came to them not so much as president, but as a father and a husband," Obama said, after meeting with family members of the dead and a number of hospitalized survivors. "We can all understand what it would be to have someone taken from us in this fashion."
"Most of the conversation was filled with memory," he said of his talks with the victims' families. "It was an opportunity for families to describe how wonderful their brother , or son or sister had been. … I conveyed to them …  that I was there to serve as representative of the entire country and let them know that we are thinking of them at this moment and will think about them every day."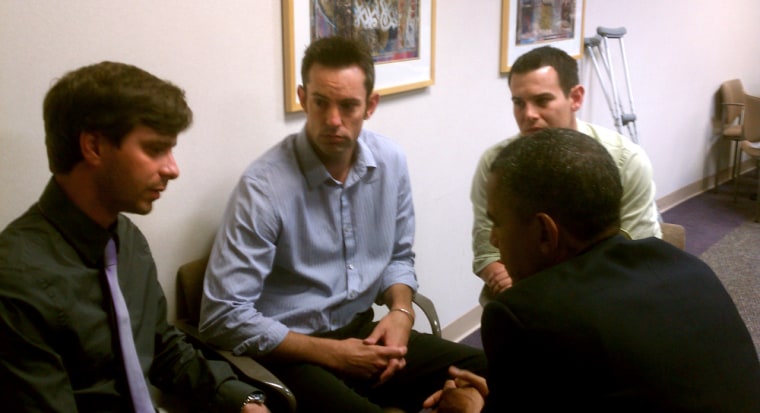 The shooting also hung heavy over church services in Aurora Sunday morning.
"I just remember going up and driving by the theater" late Friday, Pastor Jeff Noble told his New Life Community Church congregation. "I just started bawling like a baby because I think it was then that it hit me. This wasn't some TV show. This wasn't some event that happened 1,000 miles away … it happened in our community."
Like others who spoke with NBC News, Noble had seen movies at the Cinemark's Century 16 Aurora Theater, located in a bustling mall here. He couldn't explain why the attack had happened in Aurora, a suburb of Denver that retains a rural feel, with rolling grass plains and wildlife often spotted from the roadside.
Terry Jackson, who lived for 20 years in Aurora and now resides in nearby Lafayette, described his former home as a "peaceful suburb" that was both cosmopolitan and laid back.
"I just could not imagine anything like this ever happening, especially in the city. I certainly never thought of it as a dangerous place," said the 50-year-old software engineer.
Jackson said he was "very angry" about the attack and the fallout, and noted that an online commenter had called Colorado the "mass murder capital of the world."
"We've got mountains. We've got … a really beautiful city," he said. "But this … and Columbine, that's what we're known for."
Jackson, his wife, Donna, and their 20-year-old son brought a bouquet of white and yellow flowers to a makeshift memorial started on an empty lot Saturday across the way from the theater, which had been closed to the public following the attack as investigators removed bodies from the crime scene.
A man who had posted crosses for the victims of Columbine High School came to the memorial site on Sunday and placed 12 white crosses for those slain in the theater. Columbine High School, where 13 students were killed in a shooting spree in 1999, is about half an hour from Aurora.
It will be a while before wounds heal, if they do completely, said Noble, the local pastor.
"There's always a scar and there's always a hole, something that's missing in their lives," he said. "For a number of people, there is going to be a new normal."
NBC News' Mike Brunker contributed to this report.
Related content from NBCNews.com: