According to the Freelancers Union 1 out of 3 workers are freelancers. If you count temps, part-timers, contractors and those under-employed, about 42 million Americans, or a third of the workforce, are self-employed. Breaking down those numbers even further, about 6.8% of freelancers work in media-related fields.
Though the unemployment rate is down to 7.7%, Americans are starting to look for alternative answers to a destabilized traditional workforce. Enter the freelancer. In a society that has become dominated by social media, the freelancing format is an ideal model which places emphasis on connectivity and competitive cooperation. Without the traditional top-down business model restricting career growth, you could even argue freelancers work in a more democratic system than regular 9-5ers.
However, freelancers are subjected to disadvantages in receiving fair payment, lack of regular hours, no insurance and really no protection from poorly managed companies. Prior to today, there was no streamlined way for freelancers to hold production companies accountable or to enforce some form of reprimand for mismanagement. But on Thursday, that all changed with the launching of Production Hound.
Production Hound is the brain child of New York-based freelance sound engineer Donny Tam. This site is a production company rating system for freelancers where they can also voice their experiences (either positive or negative) and provide other peers with useful information before they book future jobs.
With over 10 years of production experience, Tam has gone through almost every situation you could imagine. Since he started in the industry common situations he often overheard were stories of companies who had cheated colleagues out of money, took too long to pay or mismanaged production on the day of the shoot.
"[Production Hound] started more about getting paid, plain and simple. Then when it happened to me and there were no repercussions to the company other than to add another story to the mix and continue to pass along forewarnings to peers via word of mouth, I knew a better system had to be developed. Looking back, the situation would always bode worse for us, the freelancers. For example, say I would have complained, that would have lead not only to my non-payment, but almost certainly loss of a client as well. So basically, when I set out to create Production Hound I wanted to provide a system to hold companies accountable for late/no payment and overall poor production execution without putting the freelancer at risk." 
On top of creating a collaborative space for freelancers to crowd source information about potential employers Production Hound also ensures the users anonymity is protected. This way the freelancer can feel comfortable about giving a production company an honest rating without the anxiety of retaliation from a poor review. 
Production Hound has been two years in the making, taking time to compile company information, logos and overall web design to make it as user-friendly as possible. When you navigate to the site you will see there are four categories: Prompt Payment, Organization, Standards of Production, and Work Environment. Each category accompanied with a 10 star rating and then the Overall Score which is displayed next to the production company name on the site. In addition, users are also encouraged to leave additional comments to further expand on their experience and better inform peers of the company.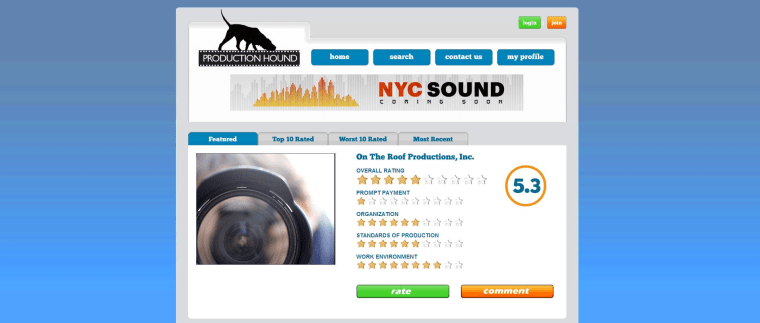 There is no other data base like Production Hound and Donny hopes people will reference the website before and after booking jobs and rate as often as possible. "It is just as important and helpful to rate the good companies in addition to the bad. The more people rate the better data base we can build. "
So pass along the good word to all your friends doing the freelancing gig! Finally, a website site aimed to benefit and protect the freelancer.