After San Francisco resident Heather Marlowe was drugged and raped at the city's annual Bay to Breakers race in May 2010, she trusted local police to process her rape kit –the  evidence collected during a forensic exam -- and update her if any leads turned up. When they didn't call for more than a year, she began researching why.
Marlowe, a 32-year-old writer and performer, discovered that women in cities across the country, from California to Memphis to Miami, have been waiting for police to process their rape kits -- sometimes for decades. To prompt the police to test her kit, Marlowe wrote "The Haze," a one-woman play about her experience,  to draw attention to the situation she and hundreds of thousands of other sexual assault survivors are facing.
"My kit wasn't getting processed, so [my play] was a way for me to be public about it in a way that brought people together as an audience and have a dialogue," Marlowe told msnbc .
Marlowe has also become an activist for clearing the rape kit backlog in San Francisco. "It has felt at times like unless I took it upon myself to organize a core of people to keep moving this issue forward, there was no place to go," she told msnbc.
A representative from the San Francisco Police Department did not respond to a request for comment.
The backlog of untested rape kits is only one part of nationwide problem of sexual assault. Even as some cities have taken steps to catch up, others say they don't have the funding or personnel needed to process kits and investigate cases in a timely way. The lack of action leaves assault victims feeling powerless and traumatized by seemingly indifferent law enforcement and leaves predators free to strike again.
On Thursday, the House of Representatives approved an additional $5 million in funding on top of $36 million that the White House proposed for testing and investigations. The Senate is also expected to consider the proposal as it creates its appropriations bill. The original proposal would be enough for about 30,000 tests. The extra money would fund another 3,000. But according to a Justice Department estimate, the nationwide backlog sits at approximately 400,000 kits. 
In the past year, senators and members of the House have also worked to address epidemic levels of assault and harassment in the military and on college campuses. The military is in the process of implementing reforms passed this winter, and in April, a White House task force released a list of recommendations for fighting campus sexual assault.
But Sarah Tofte, vice president of Policy and Advocacy at the Joyful heart Foundation, an advocacy group for sexual assault survivors, said it would ultimately be up to cities and communities, not the federal government, to figure out how to reckon with years of untested rape kits and cold cases.
"So much depends on the political will in cities. State and federal governments can do some work, but not on the ground," Tofte told msnbc.
"It's a real commitment to want to reform," she added. As some cities work through their backlogs, it will help others move forward too. "It's going to take education, awareness, maybe a bit of peer pressure.  It's better for the Memphis PD to hear from Detroit PD what works than from activists."
When a criminal prosecution of a sexual assault runs smoothly – which is not the norm, since 97% of rapists don't spend a day in jail - investigating officers take evidence collected in a rape kit exam to compare to databases to determine if a victim's assailant is already in the criminal justice system. Technological advances have made processing rape kits easier and cheaper, but the forensic exams that collect evidence are still an intense medical procedures that can take hours.
After a victim goes to a hospital to undergo the procedure, the examiner collects biological evidence, which can include skin, hair, blood, and saliva, and photographs the victim's body to document any injuries or bruises. If a victim decides to go through with reporting the crime to police, the kit is supposed to be tested.
The process is expensive, costing as much as $1,500 per kit. And with budgets tight and some cities facing backlogs in the thousands, advocates know they face an uphill battle.
"The thing that takes the longest is to convince a city to find out if it has a problem," Tofte said. "It's getting them to actually count the kits and convincing them to assess the problem."
Some cities are already trying.  
 In Detroit, Wayne County Prosecutor Kym Worthy told Al Jazeera that "From day one, we had to literally go out and fundraise ourselves" to test the city's 11,000 unprocessed kits. Those tests have already identified 100 serial rapists, and after four years, 2,000 kits have been tested.
Memphis is currently facing two lawsuits from sexual assault victims over its backlog of 12,000 untested kits. Both cities have committed to testing their entire backlogs and investigating any hits that come from them.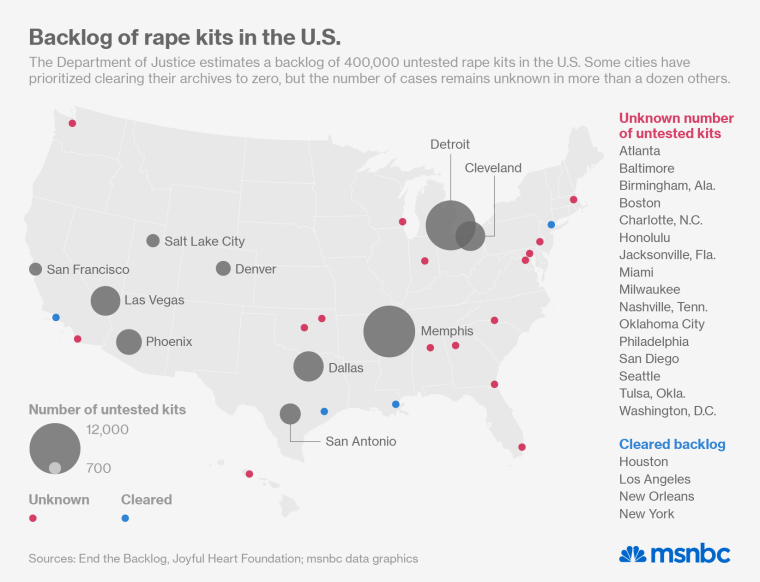 Tofte noted that cities with the largest backlogs aren't necessarily the worst offenders.
"Detroit and Memphis are good examples," she said. "It doesn't mean they're worse [because they have high numbers], it just means they've gone public. What we know is less than what we don't know" about the scope of the problem, she said.
One of the biggest hurdles to addressing the issue is that there is no way to change every jurisdiction's procedures at once. States can allocate more money and set time limits for testing kits that come in, but ultimately the cases, and victims' lives, rest with police departments that often seem ill-equipped to handle sexual assault with the care survivors need.
Many victims find out their kits have essentially been lost.
"When you look at the cases," Tofte said, it's often a matter of "whether the officer believes the victim, whether they think this is a person that has enough value to pursue their case. They assess whether anyone will notice if they don't investigate."
As for Marlowe, the publicity from her play publicized her case and helped get her rape kit tested. But she knows she's an anomaly. "I was performing in San Francisco, a relatively small city, so word of mouth spread and my one kit was processed, but that's not good enough. Not every woman who is raped is going to write a play about it," she told msnbc.