Donald Trump told reporters the other day that he considered hosting a celebration to honor the one-year anniversary of his surprise election victory, before ultimately deciding against it.
Given the latest evidence, 364 days after Trump stunned the world, that was probably one of his smartest decisions to date. Because at this point, as Americans take stock of this bizarre presidency, much of the country doesn't appear to be in a celebrating mood.
A majority of Americans say President Trump has not accomplished much during his first nine months in office and they have delivered a report card that is far harsher even than the tepid expectations they set for his tenure when he was sworn into office, according to a new Washington Post-ABC News survey.Approaching the first anniversary of his victory over Hillary Clinton in the 2016 election, Trump has an approval rating demonstrably lower than any previous chief executive at this point in his presidency over seven decades of polling. Fewer than 4 in 10 Americans -- 37 percent -- say they approve of the way he is handling his job.
The historical context matters: since the advent on modern polling, no president has struggled this severely to earn public support one year after his election. Indeed, several modern presidents never saw their support drop to Trump-like depths, even after years in office.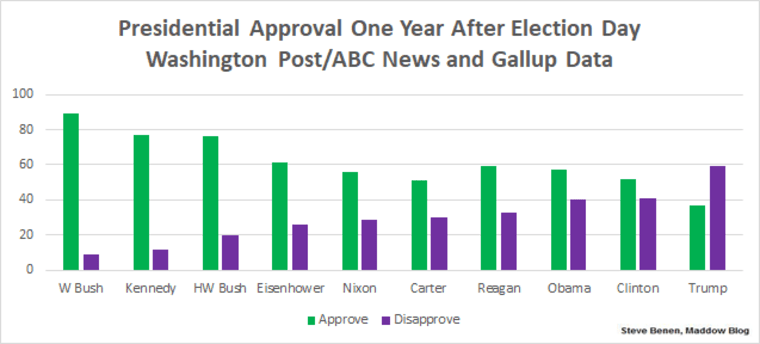 And it's not just the Washington Post-ABC News survey. The latest NBC News/Wall Street Journal poll found Trump's public standing dropping to an all-time low last week. The same is true of the latest Fox News poll. The same is also true of a new CNN poll released yesterday.
The president told the New York Times last week that the Republican National Committee recently conducted polling in swing states, and he was pleased with the results. "I just got fantastic poll numbers," Trump boasted, declining to offer any evidence.
What we're left with is a dynamic in which we can believe secret data that Trump claims exists or public data, all of which is pointing in the opposite direction.
Stepping back, it's important to remember that presidential support often waxes and wanes based on factors a White House can't necessarily control. In general, when the economy is healthy and the public is largely satisfied with the status quo, a president can expect to have a higher approval rating. When conditions worsen, the public often blames the man in the Oval Office. It's just part of the job.
But it's also what makes Trump's woeful public support so striking: the nation has low unemployment and healthy economic growth, but the American mainstream is rejecting the president in surprisingly strong numbers anyway.
The data therefore appears to reflect a public rejection of Trump personally -- Americans aren't satisfied with him, his character, his capacity for honesty, his style of leadership.
And so long as the president believes he's seeing "fantastic poll numbers," Trump won't see any reason to even try to change.