It's easy to forget that the 2014 election cycle isn't over just yet. There are still some unresolved U.S. House races and there's also a U.S. Senate race in Louisiana that will wrap up this weekend with a statewide runoff.
From a distance, the race looks very good for Republicans. Sen. Mary Landrieu (D) has won three times before -- twice in runoff elections -- but Louisiana has grown increasingly red in recent years, and the incumbent looks like a heavy underdog against Rep. Bill Cassidy (R). It's so bleak for Dems that the party doesn't want to spend any money on what it sees as a lost cause.
"I am extremely disappointed,"
Landrieu said
yesterday when asked about the Democratic Senatorial Campaign Committee canceling all of its ad buys. "You know, they just walked away from this race."
The result is an incredibly lopsided media landscape. The Center for Public Integrity
published an analysis
yesterday that drove home just how one-sided Louisiana's airwaves have been.
Groups backing Landrieu have aired fewer than 100 TV ads since Nov. 5, with most of those coming from the Humane Society Legislative Fund. That's less than 1 percent of the 14,000 TV ads that have aired during the Landrieu vs. Cassidy runoff.... Several conservative groups, meanwhile, have blasted Landrieu with nearly 6,000 ads since she advanced to the runoff. Almost all of the ads have contained messages that attack Landrieu rather than promote Cassidy.
Of course, the Landrieu and Cassidy campaigns have run ads of their own, but even here, the incumbent's spots have been outnumbered, 5,000 ads to 3,000.
This calls for a chart: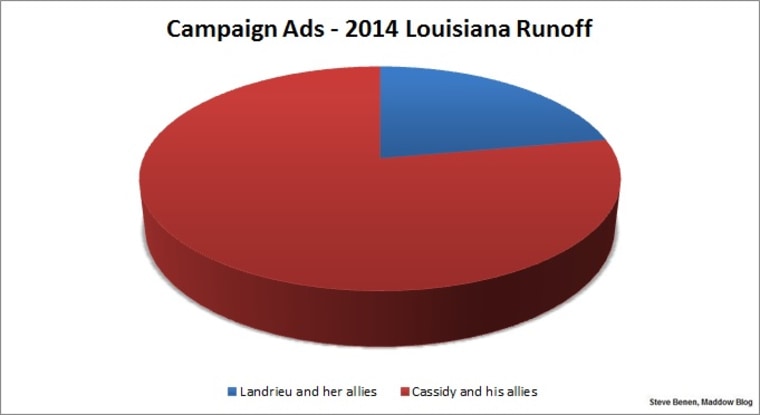 It's hard enough for a Democrat to win a statewide election in the South in 2014, but this image should drive home why Landrieu faces such long odds.
That said, the senator is going down swinging, going after Cassidy for
controversial payments
he received from Louisiana State University, and reminding voters that
presidential impeachment
is more likely if the far-right congressman is elevated to the Senate.
Early voting in the race is already underway and it ends this Saturday. If Cassidy prevails, the Republican majority in the Senate next year will grow to 54 seats.