A few weeks ago, Rep. Steve Stockman (R-Texas) championed a proposal to prevent the Department of Energy from blocking approval of offshore-drilling permits. There was, however, a small problem: the Energy Department doesn't regulate drilling. As Ben Geman
explained
, the Interior Department does. Stockman's bill addressed an imaginary problem.
The punchline, of course, is that his bill
passed
, 218 to 204.
It's all fun and games until the weirdos start getting their bills through the chamber.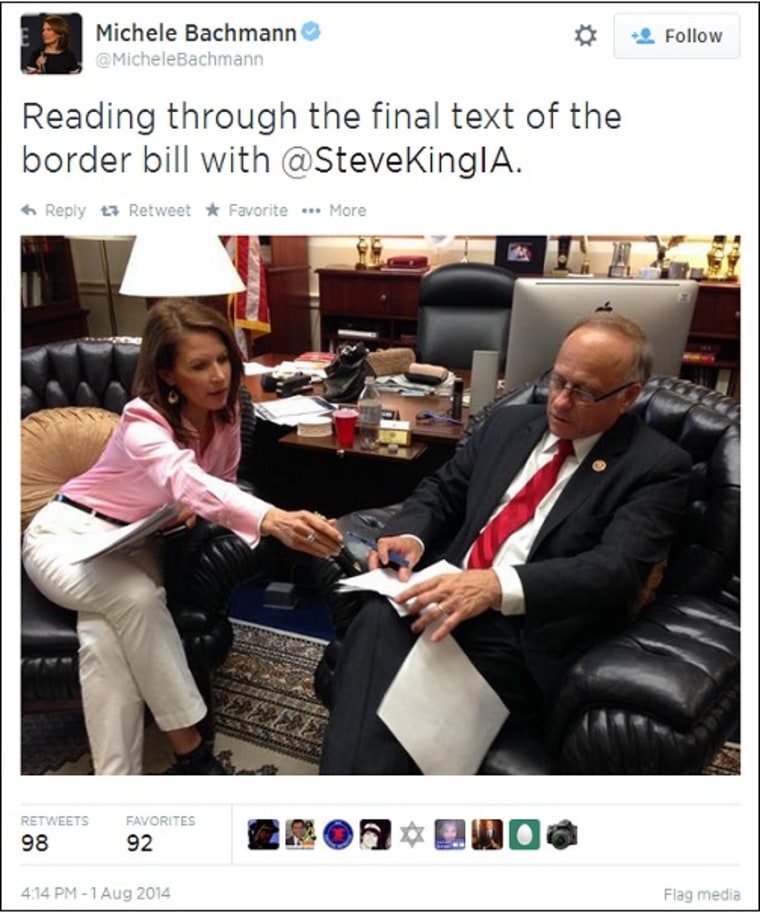 Rep. Michelle Bachmann has a new theory about the unaccompanied minors fleeing violence in Central America who have come in large numbers to the southern U.S. border: they are future victims of a liberal plot to use unwilling children for medical experiments.
Apparently, there was a recent dispute in Massachusetts over a teenager named Justina Pelletier and her medical diagnosis. Bachmann came to believe the Boston Children's Hospital intended to do medical experiments on the girl with federal grant money, and the congresswoman believes the problem will get worse with unaccompanied children from Central America.
On Wednesday -- the day before she helped kill her party's border bill, and two days before she helped write its alternative -- Bachmann appeared on a right-wing radio show. "Now President Obama is trying to bring all of those foreign nationals, those illegal aliens to the country and he has said that he will put them in the foster care system," she said. "That's more kids that you can see how -- we can't imagine doing this, but if you have a hospital and they are going to get millions of dollars in government grants if they can conduct medical research on somebody, and a Ward of the state can't say 'no,' a little kid can't say 'no' if they're a Ward of the state; so here you could have this institution getting millions of dollars from our government to do medical experimentation and a kid can't even say 'no.' It's sick".
Well, it's something.
During Friday night's debate, Bachmann went
a little further
, drawing a brief rebuke from the House chair at the time.
Bachmann said House passage of the bill would "put a handcuff on one of the president's hands" and said Senate Majority Leader Harry Reid, D-Nev., should bring the Senate back and pass the bill. "He needs to put the other handcuff on this lawless president's hands," she said as she grabbed one of her wrists. The chair admonished Bachmann immediately after she was finished speaking: "The chair wishes to remind members to refrain from engaging in personalities toward the president."
For those who've followed Capitol Hill at all in recent years, Bachmann's nutty rhetoric is the ultimate dog-bites-man story. Like Stockman, her clownish antics are hardly worth getting excited about.
But in today's Republican-led House, bills from folks like Bachmann and Stockman are actually passing, which arguably means we can't just dismiss her and her cohorts as a meaningless annoyance.