It wouldn't be the first time Andy Dallos looked out the windows of the TRMS global command center to see a bunch of goofy people swimming in the fountain across the street so perhaps he shouldn't have been too surprised.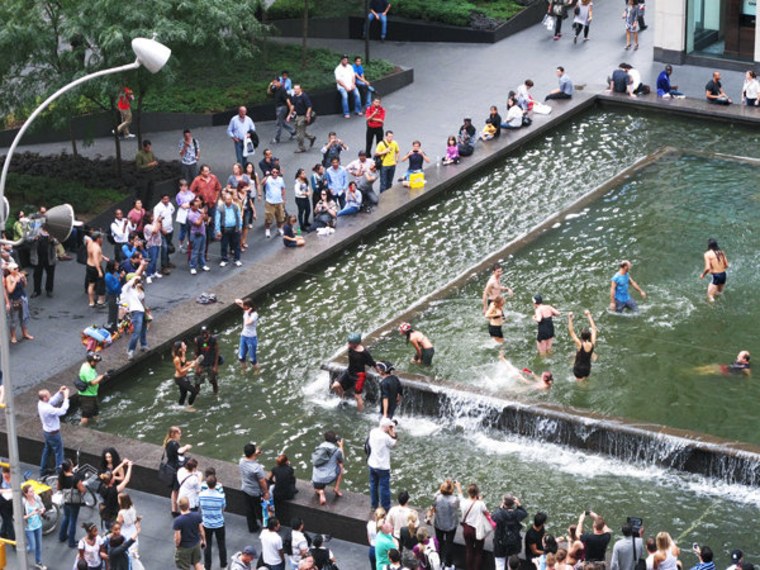 And yet it's pretty clear on plain sight that Monday's dirty dippers were a different breed - maybe it's the instant audience that made it look as much like a performance as a casual plunk in the drink.
Sure enough, a closer look ascertained what was really going on...
---
...this was a Time's Up joint.
Time's Up is an environmental activist group that raises awareness about everything from transportation alternatives to sustainable food. One demonstration that still stands out in my mind was in 2007 when they rode en masse wearing snorkels and masks and swimming gear to point out the threat to New York City of rising sea levels due to global warming.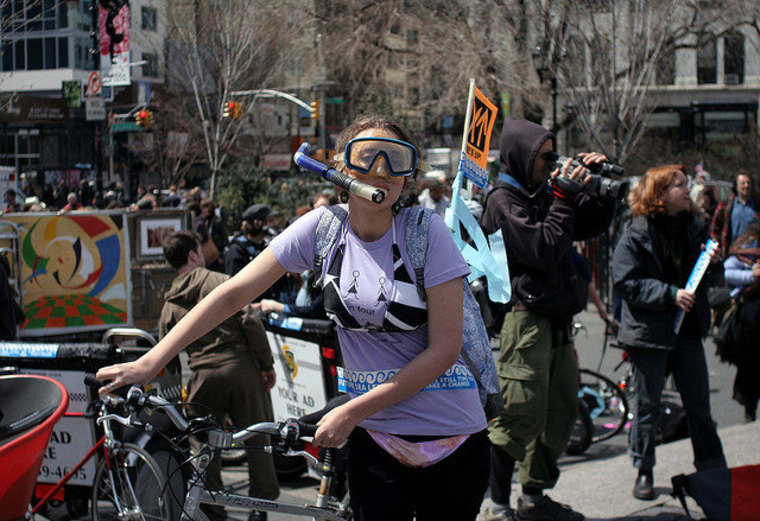 As you walk around the city you can still find markers on street light posts showing the reach of flood waters given ocean level projections (in fact, their map back then probably looked pretty similar to the Hurricane Irene flood zone warnings this summer).
Anyway, their calendar let us know that yesterday was their Occupy Fountains Ride, with the goal of pressing the point of pressing the point that many of the public spaces in the city are the result of negotiations with private industry in exchange for air rights or other zoning accommodations. This is a perennial issue in New York City but it has particular resonance lately because of a certain little park downtown with corporate parentage.