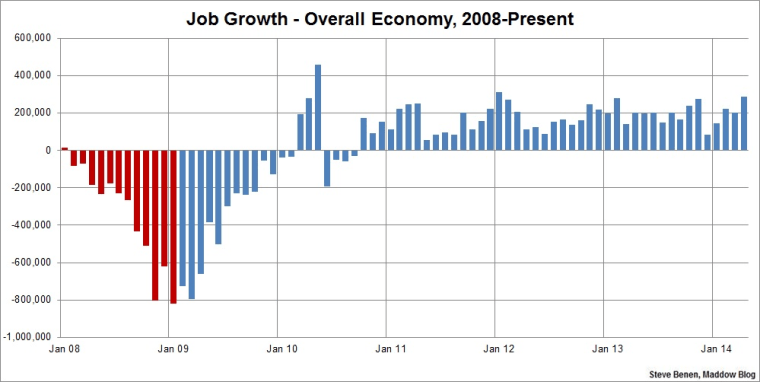 There were some discouraging job numbers in December and January, sparking some widespread concerns about whether the modest recovery in the job market was faltering. Everyone wanted to know whether conditions would slide further or bounce back after a difficult winter.
We now have our answer. The
new report
from Bureau of Labor Statistics shows the U.S. economy added 288,000 jobs in April, well ahead of expectations, and one of the highest totals of any month in several years. The overall unemployment rate, meanwhile, dropped to 6.3% -- its lowest point since September 2008, nearly six years ago.
For the third consecutive month, public-sector layoffs did not drag down the overall employment figures. Though jobs reports over the last few years have shown monthly government job losses, in April, the private sector added 273,000 while the public sector added 15,000. The latter may not sound like much, but when you get used to that total being negative, it's a breath of fresh air.
These are, of course, preliminary numbers that will be revised, but at this point, April appears to be one of the best months for the U.S. job market since before the Great Recession began.
Better yet, the job totals for both February and March were both revised up, pointing to an additional 36,000 jobs that had been previously unreported.
All told, over the last 12 months, the U.S. economy has added over 2.36 million jobs overall and 2.37 million in the private sector. What's more, April was the 50th consecutive month in which we've seen private-sector job growth.
Above you'll find the chart I run every month, showing monthly job losses since the start of the Great Recession. The image makes a distinction – red columns point to monthly job totals under the Bush administration, while blue columns point to job totals under the Obama administration.