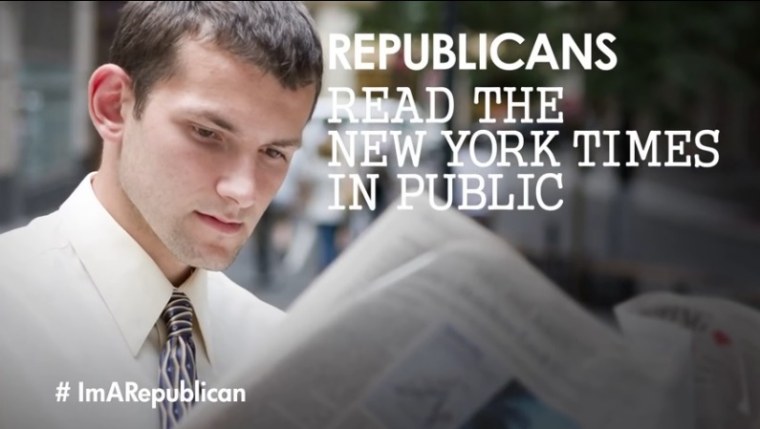 As we
talked about
last week, the campaign's accompanying video did not go so far as to say, "Republicans are capable of functioning as well-adjusted human beings," but that seemed to be the general direction of the message.
The video did, however, show a very diverse group of people doing a wide variety of routine things, all to prove the simple point about the normalcy of Republicans. Caitlin MacNeal
noted
, however, that that the people in the video aren't necessarily Republicans after all.
[A]s The Daily Banter pointed out, the woman the ad used to prove that "Republicans are black" is actually a very popular stock photo. Her image is featured on the Georgia Association of Black Women Attorneys' website and a promotion for a discount on glasses. And unsurprisingly, TPM found that the other every-man Republicans featured in the ads were also stock photos.
In fairness, this hardly comes as a surprise. Watching the video, I thought it was fairly obvious that the Republicans behind this project had used stock imagery.
But the irony is hard to overlook -- Republicans are real people, the argument goes, as evidenced by these generic images showing real people who may or may not be Republicans.
As for the reaction to last week's post on this, I'll confess to being a little surprised by the angry responses it generated from the right. A conservative website called "Newsbusters," for example, ran
a piece
headlined, "Maddow Producer Mocks Effort to Humanize the Demonized Republicans," and soon after, some very energetic conservatives shared their outrage.
I'm not sure why. Sure, I had a little fun with the "Republicans Are People, Too" video, which still seems like an amusing error to me, but my point was ultimately sympathetic to Republican voters. In fact, I very specifically wrote, "Obviously, Republicans are human beings living normal American lives."
It's why I ribbed the admaker in the first place: there's no reason to be defensive about GOP voters' basic humanity. It's unnecessary to go to great lengths to tell the public how normal Republicans are, because it needlessly reinforces the notion that somehow Republican normalcy is in doubt.
Or put another way, since no one is seriously suggesting Republicans aren't people with feelings, why launch a campaign to tell the public they are people with feelings?
Why so many Republicans found my argument offensive is a bit of a mystery.