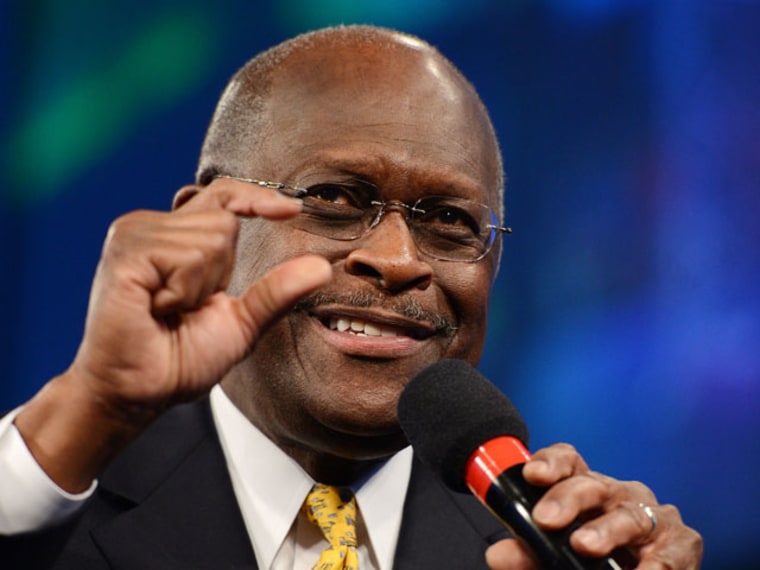 How wide a range? Those on Cain's mailing list recently received an alert with an all-caps subject line about a "breakthrough remedy" for erectile dysfunction. It was, of course, an ad -- and a rather clumsy one at that. Cain supporters were told they were at risk of losing their loved one unless they got their "manhood mojo back."
While [Caim] has been particularly unabashed in his embrace of the practice, he is not the only past presidential candidate hawking sketchy products. Newt Gingrich now pings the e-mail subscribers to his Gingrich Productions with messages from an investment firm formed by a conspiracy theorist successfully sued for fraud by the Securities and Exchange Commission. Mike Huckabee uses his own production company's list to blast out links to heart-disease fixes and can't-miss annuities. The joke about Cain and Gingrich during the 2012 campaign was that they weren't at all serious about their pursuits of the presidency but instead just lining up future paydays. After Huckabee, who'd parlayed a strong showing in 2008 into publishing deals and his own Fox News show, declined to run again, some wags snickered that his new livelihood must have been too hard to give up. Now all three seem to be proving the cynics right.... Collectively, Cain, Gingrich, and Huckabee are pioneering a new, more direct method for post-campaign buckraking. All it requires is some digitally savvy accomplices -- and a total immunity to shame.
One of the striking things about the ventures launched by Cain, Gingrich, and Huckabee is the odd incentive dynamic they've helped create: political activities that used to be based on partisanship, ideology, and/or ego are now profit-making opportunities.
A Republican may not have any interest in actually becoming president, but he or she now knows that a presidential campaign can create a lucrative mailing list. So why not run anyway for the sake of future paychecks?
At the intersection of politics and profit is a Republican machine in search of email addresses, clicks, and cash. It's not that conservative causes are irrelevant; it's just that they're hardly the only motivation for GOP players as interested in list-building as coalition-building.