Earlier this week, in the White House Cabinet Room, Donald Trump hosted a meeting with French President Emmanuel Macron, but before the discussion got underway in earnest, the American president talked about how impressed he is with his own record.
In particular, Trump wanted to talk about the unemployment rate.
"Late last night the numbers came out. And we've hit the lowest unemployment numbers in many decades, in some cases. And in some cases, the lowest numbers, period."It was just reiterated that unemployment for African American families -- it's been the best in history."
It wasn't altogether clear why he thought new data had been released the night before -- the latest unemployment numbers were actually released a few weeks ago -- but nevertheless, it was a familiar observation.
Trump pushed the same line, almost word for word, last week alongside Japanese Prime Minister Shinzo Abe. And three days earlier at a separate event in Florida. The president talked about it on Twitter this morning, after already pushing this same talking point in tweets over and over again.
The problem is not that Trump is lying. Rather, the problem is that he's confused about the truth. Perhaps it's time for a chart: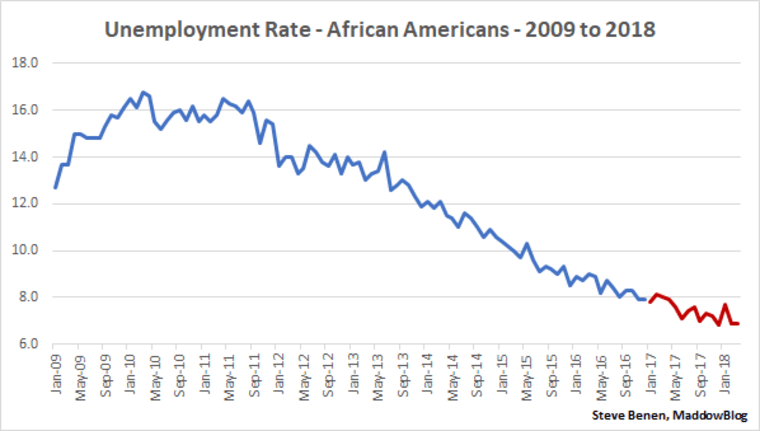 This image, based on data from the Bureau of Labor Statistics, shows the unemployment rate for African Americans over the last decade. Note that during the Great Recession, as the economy crashed, the jobless rate for black workers reached a high of 16.8% -- a level unseen since Reagan's first term.
But as Obama's presidency continued and the economy recovered, the unemployment rate for African Americans sharply improved, dropping from 16.8% to 7.9%.
The trend, thankfully, has continued, and it's since dropped further to 6.9%. That, of course, is what Trump is bragging about.
And while it's understandable that a president would boast about good news, it's also important to understand context and details. Looking at the above image, Trump would have Americans believe he deserves credit for the red line, but Barack Obama does not deserve credit for the blue line.
That's a tough sell. Slate had a good piece along these lines recently, explaining, "[T]he bigger issue here is that, much like virtually every other improvement in the labor market over the past year, the employment gains blacks and Hispanics have seen are mostly just a continuation of steady trends that well predate Trump. Joblessness among minorities has been on the decline for the better part of eight years. That's in part because a black president spent the first years of his terms trying to save a mortally injured economy. Now Trump seems to think black voters will forget all of that work."
A related Washington Post  analysis noted that Trump's message is as cynical as it is misleading.
[On the campaign trail, Trump] tried to claim that the situation for black Americans, particularly young black Americans, was dire. How'd he justify that, given the decrease above? By creating his own metric of unemployment, focusing on young people because he included students in his totals of those not working. So yes, unemployment among black teenagers was high – because many of them were for some reason going to high school instead of punching a clock. It was a nonsense claim meant to make the situation look bad – but now that he's president Trump embraces a metric under which Barack Obama's presidency looks pretty strong.That's the cynicism inherent in the tweet: Trump misrepresented the facts to voters in 2016 and now wants credit for a trend he inherited. Oh, and while implying that the trend never happened under the Democrats, which it did – twice.
Like so many of Trump's arguments, this talking about is based on misleading self-glorification. He'll keep repeating it, of course, but that won't make it any more credible.