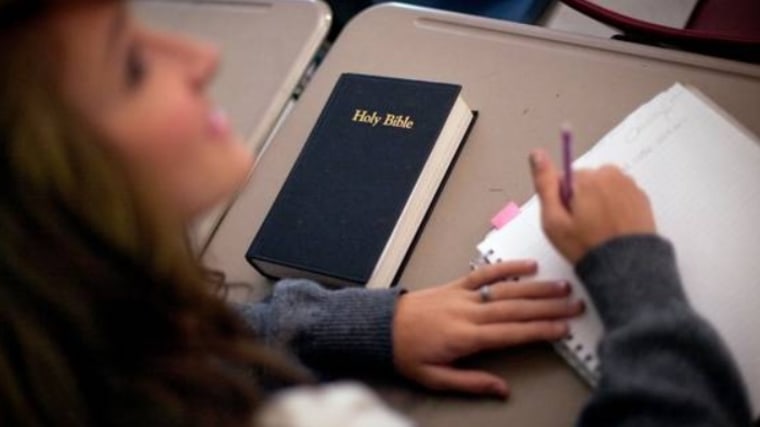 At issue is a public school science teacher, John Freshwater, who insisted on distributing creationist materials to students, and surveyed kids on whether religion is important to them. The Mt. Vernon City School District told him to stop, the teacher refused, so Freshwater was fired. The teacher then sued, claiming the district was stifling his First Amendment rights to free speech.
In a 4-3 decision issued [Tuesday], the Ohio high court said Mt. Vernon City School District had the right to fire eighth-grade science teacher John Freshwater because the First Amendment does not permit him to ignore orders from his bosses or display whatever religious items he pleases in his classroom. [...] In the lead opinion in Freshwater v. Mount Vernon City School District Board of Education, Justice Maureen O'Connor wrote: "Freshwater not only ignored the school district's directive, he defied it. After he was directed to remove the items, Freshwater deliberately added to them, incorporating the Oxford Bible and Jesus of Nazareth into the classroom."
The ruling went on to say, "Freshwater's First Amendment rights did not protect the display of these items, because they were not a part of his exercise of his religion. Freshwater's willful disobedience of these direct orders demonstrates blatant insubordination. That insubordination is established by clear and convincing evidence, and the record fully supports the board's decision to terminate him on these grounds."
This wouldn't appear to be a tough call. The U.S. Supreme Court has already ruled that, under the First Amendment, public schools cannot teach creationism as science -- a detail this teacher ignored. That, in conjunction with his brazen disregard for the school district's instructions, seems to make dismissal a no-brainer.
But here's the thing that jumps out: it was a 4-3 ruling. In other words, three justices on the Ohio Supreme Court concluded that the teacher in question was justified in blowing off the school district, scientific cannon, modern biology, the religious liberties of his students, and legal precedent.
The entirety of the ruling, including the dissent, is online
here
(pdf). In case you're curious, justices on the Ohio Supreme Court are elected, and the three jurists who dissented in this case ran as self-identified Republicans. Three other Republican judges and the court's only Democrat made up the majority.
Also from the God Machine this week:
* A Costco in California caused a bit of a stir this week when it sold the Bible with a "Fiction" sticker. The store
explained
soon after that a distributor "mislabeled" the books and apologized (thanks to reader R.P. for the tip).
* Rev. Frank Schaefer of the Zion United Methodist church in Lebanon, Pa., was
convicted
in a church trial this week of "violating church law for marrying his gay son to another man." He's been suspended for 30 days, at which point he'll be expected to either uphold church doctrine or resign as a United Methodist pastor.
*
Oh my
: "An essay published Wednesday on the website of the Harvard Ichthus, a campus 'journal of Christian thought,' argued 'the Jews were marked out for destruction when they killed Jesus.'"
* Hobby Lobby president Steve Green, perhaps best known for his legal fight over contraception access, has
written a Bible curriculum
for an Oklahoma high school, which he hopes to see adopted for classroom use.
* And Sen. Marco Rubio (R-Fla.) spoke this week at a fundraising event for the right-wing Florida Family Policy Council. Making an odd case
against church-state separation
, the far-right senator said the issue isn't worth debating because "God is everywhere" and "doesn't need our permission to be anywhere."