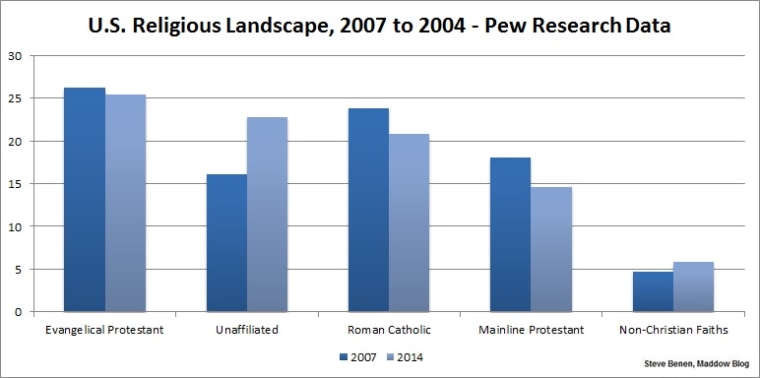 The Pew Research Center found that 22.8% of Americans were religiously unaffiliated last year -- up from 16.1% in 2007. That group includes atheists, agnostics and those who chose "nothing in particular." Evangelical Protestants made up 25.4% of the adult population, down slightly from 26.3% in 2007. Catholics declined to 20.8% from 23.9%, and mainline Protestants to 14.7% from 18.1%. In all, roughly seven in 10 Americans identified with some branch of Christianity, down from almost eight in 10 in 2007. The share of Americans who identify with a non-Christian faith grew to 5.9%, with pronounced growth among Muslims and Hindus.
For those discouraged by the overall drop in American Christians -- the population has shrunk by roughly 5 million adults, just since 2007 -- the results are probably even more alarming when age breakdowns are considered. The Pew data found that while there was a drop in Christian affiliation among Americans of all ages, it is "particularly pronounced among young adults."
For Americans born in the 1980s, a third of the population is religiously unaffiliated. For those born in the first half of the 1990s, that number rises to 36%, narrowly behind Protestants at 38%.
We tend to think of the GOP's demographic problems as related to race: Republicans tend to rely heavily on white voters, which is a long-term problem in a country with increasing racial and ethnic diversity. But the religious demographics matter just as much: Christian conservatives are a key pillar of the GOP coalition. As the share of American Christian population falls, the pillars weaken.
Also from the God Machine this week: