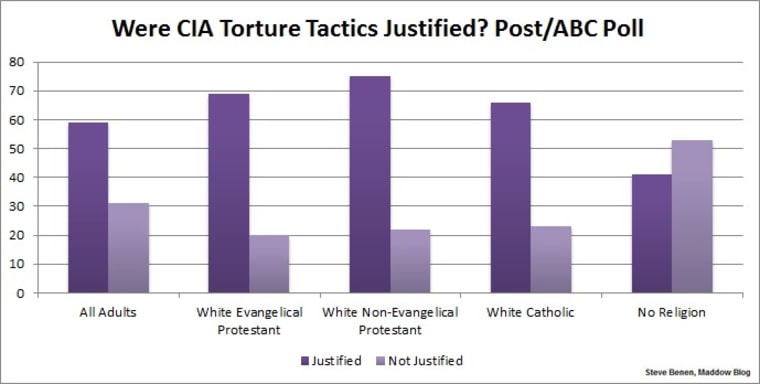 A new Washington Post/ABC News poll finds that Americans, by a 59-31% margin, believe that CIA "treatment of suspected terrorists" in detention was justified. A plurality deemed that "treatment" to be "torture," by a 49-38% margin. Remarkably, the gap between torture supporters and opponents widens between voters who are Christian and those who are not religious.
In fact, looking through the poll's crosstabs, non-religious Americans were one of the few subsets that opposed the torture techniques -- and that includes breakdowns across racial, gender, age, economic, educational, and regional lines. The non-religious are effectively **alone in their opposition to torture.
This is, as Posner noted, only one poll, and we'd need more data before drawing sweeping conclusions, but the Post/ABC results are generally consistent with the Pew Research Center data from 2009.
And they serve as a pretty interesting starting point for a discussion about faith, morality, the law, and the limits of human decency.
Also from the God Machine this week: