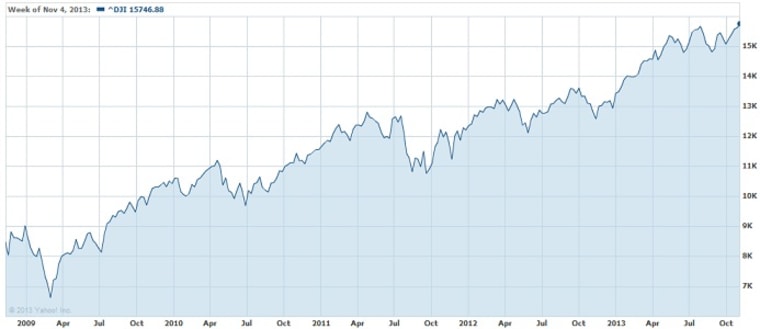 Stocks mostly climbed on Wednesday, with the Dow notching a record close, as investors bought into optimism that the Federal Reserve would continue its stimulus longer than thought, ahead of reports this week on the economy and the labor market. [...] The Dow Jones Industrial Average closed up 128 points at 15,746.88, easily beating its record of 15,680.35, set last Tuesday.
Just so we're clear, I still don't think a strong stock market is necessarily proof of a robust economy. There are far more reliable indicators -- job growth and median wages, for example -- that tell us far more about the relative strengh of the economy than where major Wall Street indexes close on a given day.
But when it comes to the politics, consistency matters. Conservatives can't say a falling stock market in early 2009 is proof that Obama's agenda is a dangerous failure, and then ignore a rising stock market as irrelevant.