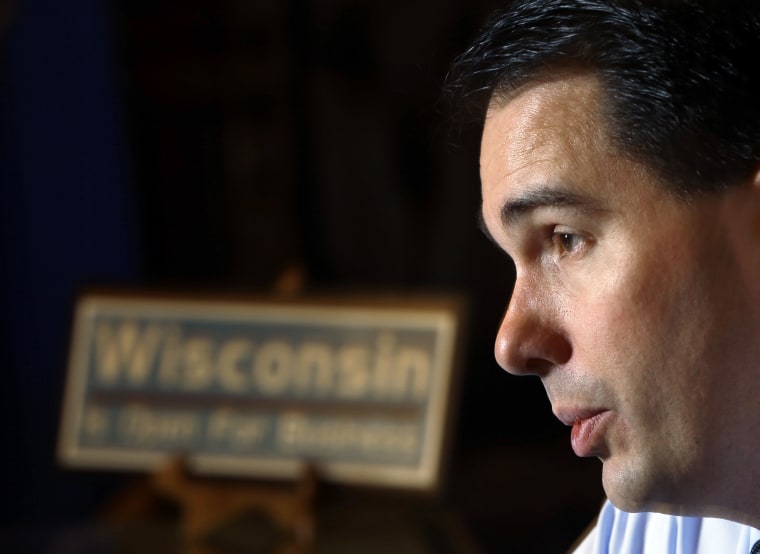 New Jersey Gov. Chris Christie's (R) bridge scandal,
Walker said
 to reporters in D.C., is "just beginning." Christie "addressed it early on, but obviously he's not out of the woods yet," the Wisconsin Republican added.
It was a pretty obvious "Hey, look over there!" moment, but it didn't have much of an effect. Walker appeared on Fox News yesterday and was confronted with the questions he doesn't want to answer.
The headline
in the
Milwaukee Journal Sentinel
, Wisconsin's largest newspaper, probably isn't the one the governor's office wanted to see: "Scott Walker on Fox News dodges question on secret emails."
Gov. Scott Walker declined again Sunday to answer whether he knew of the existence of a secret email system in his Milwaukee County executive office. Instead, during the appearance on "Fox News Sunday," Walker called the controversy over the release of thousands of emails "old news" and said Democrats were trying to switch the subject from his budget successes.
Whether or not this is a sustainable strategy is unclear. As Fox's Chris Wallace
told
Walker, "It may be old news ... but because of this dump of 25,000 documents, it's new news to a lot of the people in the state."
Quite right. Walker's defense is grounded in fact -- investigators chose not to bring charges against him and this investigation is no longer ongoing -- but what the governor is reluctant to acknowledge is that the public is just now learning some awkward details about Walker's political operation. It's not unreasonable to think the governor should explain himself beyond repeating the phrase "old news" over and over again.
Indeed, yesterday's Fox interview featured this exchange:
WALLACE: Did you know there was a private email account? WALKER: No, again, it's one of those right point out -- the district attorney has reviewed every single one of these issues. WALLACE: You're not answering my question. WALKER: No, because I'm not going to get into 27,000 different pieces of information.
And at that point, the governor went right back to his talking points. It was, in effect, Walker's declaration that he has no intention of addressing any of the new revelations, because to answer one question would necessarily lead to another.
Last week, the editorial board of the
Milwaukee Journal Sentinel
asked
, "Why wouldn't the governor want to clear up questions raised by the release Wednesday of 27,000 pages of emails related to a John Doe investigation into links between his county government staff and his gubernatorial campaign staff in 2010?" As of yesterday, even this isn't clear.
Walker's strategy at this point seems to be to simply wait for reporters to get tired of asking the questions he doesn't want to answer.