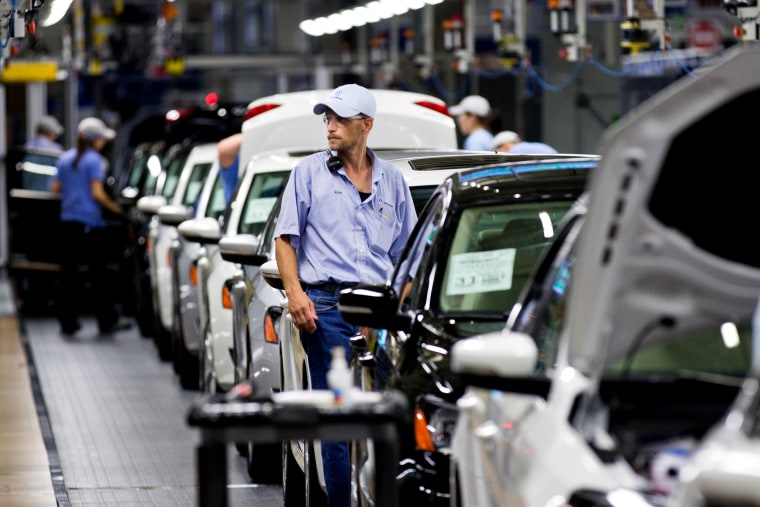 The argument, dubious or not,
worked
and the plant workers rejected the opportunity to join the United Automobile Workers union. But in an ironic twist, instead of encouraging VW to do more in Tennessee and the South, it
may do the exact opposite
.
Volkswagen's top labor representative threatened today to try to block further investments by the German carmaker in the U.S. South if its workers there are not unionized, Reuters reported today. "I can imagine fairly well that another VW factory in the United States, provided that one more should still be set up there, does not necessarily have to be assigned to the South again," said Bernd Osterloh, a member of VW's powerful supervisory board and head of VW's works council.
Osterloh, who is also on VW's supervisory board,
added
, "If co-determination isn't guaranteed in the first place, we as workers will hardly be able to vote in favor" of new production facilities in Southern American states.
That's not exactly the outcome Sen. Bob Corker (R-Tenn.) and his allies presented during the voting process last week.
Ed Kilgore's
take
rings true.
[T]he fact remains that Bob Corker and other noisy opponents of UAW representation of VW workers in Tennessee used the argument that VW would surely send any new work somewhere else if the union was approved to great effect in the run up to last week's election. It would be richly ironic if that argument turned out to be off by 180 degrees.
Some of the political coverage surrounding the vote characterized it as some kind of proxy fight, with the UAW on one side and Republicans on the other. But let's not forget that Volkswagen itself didn't have problem with unionization -- Republicans didn't intervene at the behest of the company; they intervened out of an anti-labor animus, despite the company's wishes.
It wouldn't come as too big a shock if top officials at VW noticed and came away unimpressed.
GOP leaders and their allies feared that unionization at a plant in Chattanooga would be the first domino that led to more organized workers at more plants throughout the region.  Osterloh's comments suggest the domino may now fall in an unexpected direction: fewer workers at fewer plants.