@RefudiateHate sent over news this morning that Vicco, Kentucky, a teeninesy town in the Appalachians, passed an anti-discrimination ordinance yesterday that includes teh gays. Surprised? From local WKYT:
Despite a population of about 300 people, gay rights advocates say Vicco has emerged as a state leader on fairness issues.
Apparently they've got some blue dots in red Kentucky, even in very small towns. Personally, I'm hoping for the day when simply being a small place does not automatically signal that you'd never do a thing like support equal treatment for everyone. Vicco is the fourth municipality in Kentucky to approve an anti-bias ordinance, and others are considering it.
Vicco's new sheriff tells the local Hazard Herald that the new ordinance will make it easier for him to do his job. The paper reports that Vicco's openly gay mayor, the town's first, abstained from voting. As you can see from the Hazard Herald's homepage, below, the council passed the measure along with approving a change in the city's curfew and a new sewer project.
---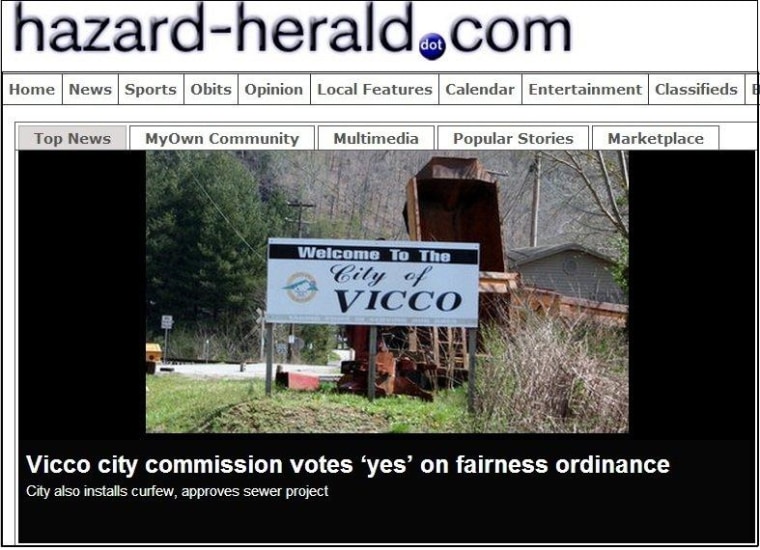 The paper also runs this editorial:
Currently, there are a total of six businesses within city limits, but we certainly recognize that there could be more with a progressive strategy in place. We don't expect Vicco to become the next Lexington or Louisville, but the small town has some things going for it, and there's no reason why growth can't be on the horizon.And finally, we were also encouraged with Monday's approval of an anti-discrimination ordinance approved by the city commission. Though we agree with Commissioner Tim Engle in that discrimination based upon sexual orientation or gender identity doesn't seem to be a problem in Vicco, our government agencies should none the less work to ensure equality.What Vicco has done is ensure that businesses cannot discriminate against a particular group of people. And that's a good thing. If discrimination against certain groups of people had been allowed to continue in America over the years, we'd likely still see restaurants with "colored only" sections in some areas of the nation.
Oh, bonus: Wyoming's new bipartisan marriage equality bill. H/t producer Cory.
(Image up top: Old-time Vicco, Kentucky. @spank628/Flickr Vicco Mayor Johnny Cummings takes the oath earlier this month. The Hazard Herald.)