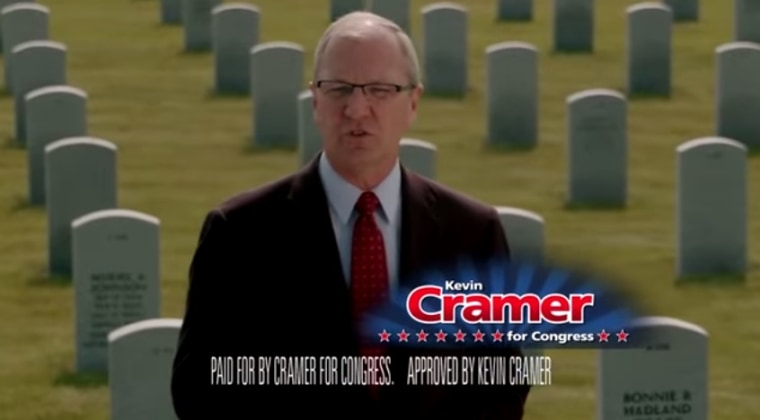 Rep. Kevin Cramer (R-N.D.) said he is pulling an ad touting his support for veterans, after state officials in charge of the veterans cemetery where it is was filmed said the rules prohibit the filming of political ads there. [...] [P]art of the ad, according to Watchdog.org, takes place in the North Dakota Veterans Cemetery in Mandan. August Honeyman of the North Dakota National Guard told the site that candidates are not allowed to film political spots at the cemetery.
To be sure, pulling the ad the right thing to do. The Republican congressman apparently never contacted the cemetery in advance, and made no effort to get approval from families whose loved ones are buried there.
But here's the part of the story that stands out for me: Cramer didn't fully pull the ad -- the Republican's campaign isn't airing the commercial anymore, but it left the spot intact online. Maybe he "did not elaborate" because he realized he wasn't really doing the right thing?
In fact, in a local paper, the congressman
encouraged
people to watch the commercial he's pulled from the airwaves. "Watch the ad in its entirety,"
Cramer said
. "It's a beautiful ad."
This probably shouldn't be necessary, but let's clarify matters: when a politician has to pull a controversial ad that breaks the rules of a veterans' cemetery, that doesn't just mean broadcast media. If a campaign accepts the fact that it made a mistake with a commercial, it's a bit of a problem when a candidate then encourages voters to watch it anyway.