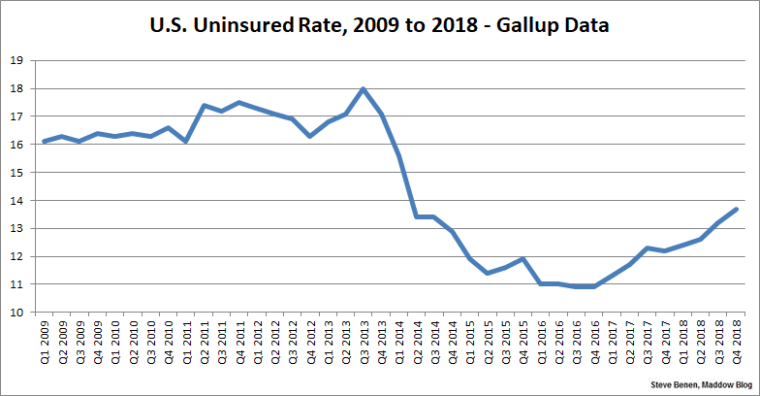 There was a fairly long list of reasons to overhaul the nation's health care system, but the principal goal of the Affordable Care Act's advocates was to bring down the nation's uninsured rate. On this front, the law's proponents have been able to brag about the ACA's results: in the years following the implementation of "Obamacare," the United States' uninsured rate dropped to the lowest point on record.
Over the last couple of years, that rate has moved in a discouraging direction. Gallup reported this morning:
The U.S. adult uninsured rate stood at 13.7% in the fourth quarter of 2018, according to Americans' reports of their own health insurance coverage, its highest level since the first quarter of 2014. While still below the 18% high point recorded before implementation of the Affordable Care Act's individual health insurance mandate in 2014, today's level is the highest in more than four years, and well above the low point of 10.9% reached in 2016.The 2.8-percentage-point increase since that low represents a net increase of about seven million adults without health insurance.
At a certain level, an increase of 2.8% may seem quite minor. But as we discussed a year ago, if you or people close to you are among those who've lost coverage, the uptick in the uninsured rate probably doesn't look that small.
I put together the above chart based on Gallup's data, and readers might notice that the latest rise in the rate began in early 2017. That's probably not a coincidence.
The HuffPost's Jeffrey Young explained that the likely causes behind the current trend are the result of "policy changes made by President Donald Trump's administration and the Republican majority in Congress."
During the first few years of Obamacare, premium increases mainly were the result of health insurance companies underestimating the costs their new customers would generate. The companies made up for this by charging more in subsequent years. The market began to stabilize in 2015 and 2016, even though prices remained high, and it appeared that large annual rate hikes might cease.Instead, the Trump administration has taken a number of steps that have had the effect of further driving up premiums for exchange customers and those who buy policies directly from insurers or through brokers.... Since his first day in office, Trump has directed and overseen policies that undermine the health insurance exchanges.
The president may think he can avoid blame for results like these. He's probably mistaken.