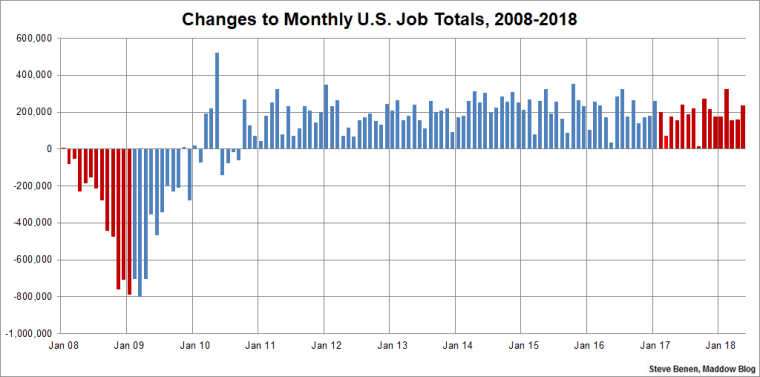 As a perk of the presidency, Donald Trump gets a sneak peek at monthly job totals before they're publicly released. With that in mind, the president, in a move that was almost certainly inappropriate, hinted this morning that the new figures were going to be good.
And they were. The Bureau of Labor Statistics reported this morning that the economy added 223,000 jobs in May, well ahead of expectations, while the unemployment rate ticked down a little lower to 3.8%.
The jobless rate isn't my favorite metric for gauging the strength of the job market, but it's nevertheless striking to see it fall to a level unseen since 2000.
Meanwhile, the revisions for the two previous months -- March and April -- were fairly modest, and pointed to a combined gain of 15,000 jobs as compared to previous BLS reports.
In terms of the larger context, this morning's data points to 1.04 million jobs created so far in 2018, which is up a bit from the totals we saw in the first five months of 2016 and 2017, but short of the totals from the first five months of 2014 and 2015.
Above you'll find the chart I run every month, showing monthly changes in total jobs since the start of the Great Recession. The image makes a distinction: red columns point to monthly changes under the Bush and Trump administrations, while blue columns point to monthly job changes under the Obama administration.
Update: Here's another chart, this one showing monthly job losses/gains in just the private sector since the start of the Great Recession.