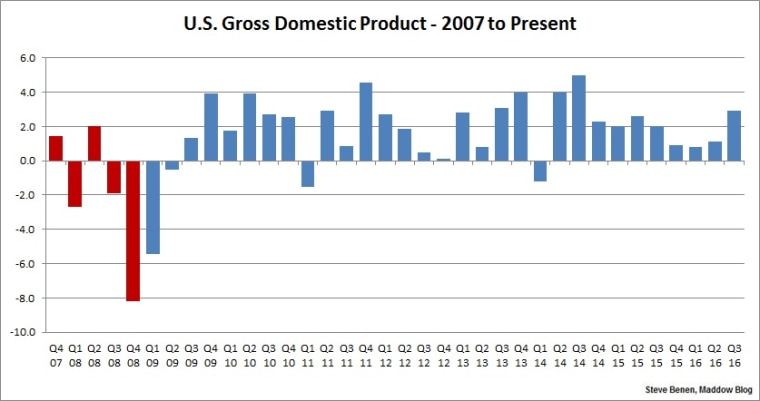 Perhaps Republicans were hoping the last big economic report before Election Day would help their electoral prospects, giving them a new talking point in the campaign's closing days. If so, they probably won't be pleased this morning.Marketwatch
reported
:
The U.S. economy grew in the third quarter at the fastest pace in two and a half years, aided by a surge in exports and a rebound in the size of inventories companies keep on hand for sale.The government said gross domestic product, the official scorecard for the economy, expanded at a 2.9% annual clip from July through September. That's a marked improvement from the first half of the year when the U.S. grew just barely over 1%.
The full report from the Commerce Department is online
here
.There are concerns, of course, that the positive news on economic growth may encourage the Federal Reserve to raise interest rates, but in the short term, there are more immediate electoral considerations.Bad news on the GDP front might have given Republicans some rhetorical ammunition as Election Day draws closer. Steady growth, however, does the opposite, denying Donald Trump and his GOP allies a rationale for a radical change in direction.As for the image above, the chart shows GDP numbers by quarter since the Great Recession began. The red columns show the economy under the Bush administration; the blue columns show the economy under the Obama administration.